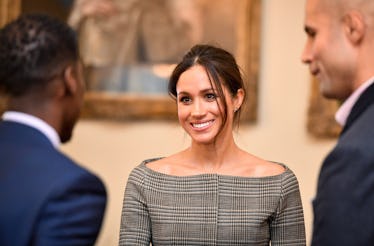 The Actress Playing Meghan Markle In Her Lifetime Movie Has Been Cast & She's Perfect
WPA Pool/Getty Images Entertainment/Getty Images
Everyone keeps comparing the courtship of Meghan Markle and Prince Harry to a Lifetime movie. Welp, say something enough and a television executive will hear it because THERE IS A LIFETIME MOVIE ABOUT MEGHAN AND HARRY COMING. The movie is called Harry & Meghan: A Royal Romance. A little too on-the-nose, but whatevs. The big question that has been surrounding the movie is about casting. This film is apparently moving quick because the lead roles have already been chosen, including Markle. Who is Parisa Fitz-Henley? Besides scoring the part of our new on-screen Meghan Markle, the actress has done quite a bit of other work.
Second to actually being Meghan Markle, playing her in a movie is a pretty amazing experience. Then, you can go home and don't have to deal with all the royal paperwork I imagine they have to do. Parisa Fitz-Henley is a great choice to play Markle. Besides physically resembling the gorgeous royal-to-be, Fitz-Henley has been in the Hollywood scene for quite some time. According to IMDb, her first acting credits go back to 2006. The actress has made appearances in hit shows such as Grey's Anatomy, House of Cards, and The Girlfriend Experience.
Fitz-Henley is probably best known for her role as Reva Connors in the Netflix series Luke Cage and Jessica Jones — two superhero shows based in the Marvel Universe.
Upon being able to share the news of her latest role, Fitz-Henley took to Instagram to share with her 12,500 loyal followers. She said in the post,
Psyched we can finally share! So happy to be doing this project w/ #MurrayFraser (we gotta get this dude on IG asap!) and @lifetimetv!
The Instagram-less Murray Fraser will be playing along side Fitz-Henley as the charming Prince Harry. Murray has a much shorter resumé than Fitz-Henley. According to IMDb, he has only appeared as PC Jason Denny on a mini-series called The Loch and he played the character Ewan on Victoria.
He does have a Harry-esque thing going. I'm interested to see if they dye his hair red for the actual movie. Lifetime head of programming Liz Gateley mentioned more details about the flick. As reported by Deadline,
The film will examine the history of Prince Harry and Meghan Markle from the moment they met after being set up by friends, through their initial courtship when they were able to keep their romance under wraps, and ultimately the intense global media attention surrounding their relationship and Meghan's life as a divorced American actress.
Meghan and Harry's love story already seems ripped right off of a movie poster so I'm sure the Lifetime version of it will be equally adorable.
The fact that the two were set up by a mutual friend makes it all the more romantic. The mystery friend who set up Harry and Meghan is Violet von Westenholz. She's a close family friend to Prince Harry who ended up playing matchmaker. An insider told E! News about the setup,
Harry was having a really hard time finding anyone. It's hard enough finding someone new to date. He can hardly go on Tinder or a dating app like normal people, but to meet someone that you actually connect with, that was proving to be almost impossible. It was something he had confided in his closest friends about; he was ready to meet someone but it was so hard to actually find the right person.
The source continued,
Meghan had been a part of the London social scene for a while and had slotted into the high society set really easily. And so when Harry told Violet he was having trouble finding someone, Violet said she might just have the perfect girl for him.
Way to be, Violet. Way to be. For the record, the source added that Harry "knew immediately," as if we weren't convinced already. "It's a simple case of meeting the right girl at the right time," the source explained.
Prince Harry and Meghan Markle's relationship is almost too good to be true. I'm glad we can all enjoy the romance on another level thanks to Lifetime. The movie is set to release in the spring, probably near the May 19 wedding date. Cheers to Meghan and Harry.
Check out the entire Gen Why series and other videos on Facebook and the Bustle app across Apple TV, Roku, and Amazon Fire TV.