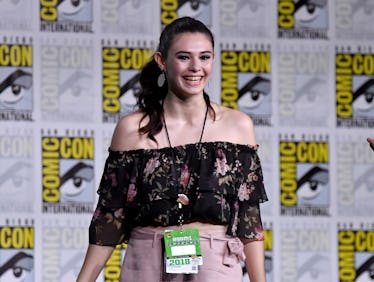 There's A Trans Superhero Coming To 'Supergirl' & I'm So Excited
Mike Coppola/Getty Images Entertainment/Getty Images
Historically speaking, the superhero genre has been pushing societal boundaries for decades. Iconic superheroes such as Wonder Woman, Luke Cage, and Black Panther are blazing trails when it comes to representation in the superhero genre. So when I heard about the latest addition to CW's Supergirl I was incredibly excited. First things first — who is Nicole Maines, the latest cast member to join Supergirl? Well, she'll be the first transgender superhero ever, and I absolutely cannot wait to see the actress thrive in her new role.
On July 21, the CW announced that Supergirl had cast trans actress Nicole Maines as superhero Nia Nal, a.k.a. Dreamer, during a San Diego Comic Con (SDCC) panel about the show, making her the world's first transgender superhero.
Maines herself shared her excitement over the casting and spoke about the importance of having a young transgender person on TV that other young kids who are questioning their gender identities can look up to, per Mashable. Maines said in the panel,
[A] lot of different shows have been really eager to tell the stories of transgender people, especially transgender youth because it's just such an important issue right now in our society and the world. It seems only fitting that we have a trans superhero for trans kids to look up to. I wish there was a trans superhero when I was little.
This role is sure to give Maines an even bigger platform, but she's already been a vocal advocate for the trans community. As a child and teenager, Maines won trans children the right to use the bathroom associated with their gender identity, when she took her school to court over their bathroom policy. In January 2014, a court ruled that her elementary school had violated state anti-discrimination law when they didn't allow her to use the girls restroom, instead telling her that she should use the staff bathroom instead. At 20 years old, she's going to have won a major court case and be on a hit show. Not too shabby.
Following the announcement at SDCC, Maines spoke to Variety about how important her casting is in terms of representing the trans community in the right light. "We've had trans representation in television for a while but it hasn't been the right representation," said Maines. "I think we're in a time right now where more than ever representation in the media matters," she added, "And what we see on television has a very dramatic effect on our society."
Maines will appear as Nia Nal in the show's upcoming fourth season, which will premiere on Oct. 14 on the CW network. Maines described the character as a young reporter that's been sent to National City to learn the ways of journalism, as well as honing her superhero skills. Maines is especially excited about the part because of who Nia Nal is as a person. "She's so pure," Maines said. "She has this ferocious drive to protect people and to fight against discrimination and hatred. She's the superhero we need right now."
With the abundance of superheroes around in movies and TV right now, there's no denying the importance of this casting. The trans community has very few public figures that serve as representatives for their community, and Maines being thrust into the spotlight on a show as major as Supergirl is truly remarkable.
I'm so excited to see what Maines has in store for the future, and how this casting may influence other TV shows to follow suit and cast more trans actors as well. I know I'll be watching.