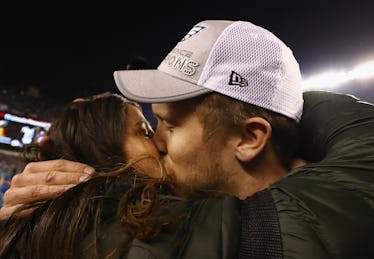 Eagles Player Nick Foles & His Wife, Tori, Have The Cutest Love Story Ever
Al Bello/Getty Images Sport/Getty Images
I'm a Philly girl, so forgive me if the Eagles' crushing defeat over the Vikings on Sunday night — you know, the one that earned them a spot in this year's Super Bowl? — still seems a little surreal. "Did that really happen?" my brother whispered when he called the next morning. Indeed it did. And if all of us fans still can't quite believe our boys are headed to Minneapolis, imagine how Nick Foles' wife must feel? Her backup quarterback husband is suddenly a post-season hero, and he's just one win away from bringing home the title. So just who is Nick Foles' wife anyway?
Her name is Tori Moore Foles, and you prob caught her celebrating with her husband on the field after the Eagles' 38-7 victory. And as it turns out, the couple have a pretty cool love story. For starters, they are both former Wildcats who met as student athletes at University of Arizona. Foles played football, natch, (after transferring from Michigan State), and Tori was a setter for the school's volleyball team. Proving that the whole love-at-first-sight thing may actually exist after all, Foles says he spotted his future bride on his very first day at school.
"She was the first person I actually ever saw at the University of Arizona," he told the Press of Atlantic City. "I was going to my [football] physical. I remember walking down the stairs and thinking, 'Wow, this might be the most gorgeous person I've ever seen.'"
OK, that is pretty much the cutest thing ever! Even so, the two started off as friends, and didn't start dating until after college, when Tori was living in Portland and working in digital marketing for Nike.com.
It was around this time that Tori's path took a turn — she had to quit her job when she fell ill and was diagnosed with Postural Orthostatic Tachycardia Syndrome (POTS), which led to an underlying diagnosis of Lyme Disease.
But despite the life-changing news, Tori remained hopeful when she wrote about the experience in a blog post for The Increase Women:
"For me, this illness has been a journey of faith, hope, and trust in the process that God has set out for me," she explained. "Through my writing, I hope to be able to give some perspective on how to view difficult situations and help inspire people to find purpose in what they are going through."
Pretty inspiring. And it looks like the impressive mama may have found her purpose this past June, when the couple welcomed their first child, a baby girl named Lily James Foles.
"The most amazing moment of my life was when Lily was born," Foles told the Daily Times. "It's the greatest thing in the world. I can't explain it. Being a father is the coolest thing in the world."
So damn sweet!
And while the Foles' are super low-key and pretty much MIA on social media — Nick is not even on Instagram and Tori's account is set to private— you can be sure that all eyes will be on the impressive pair as they gear up to take on the New England Patriots at Super Bowl LII on Feb. 4.
"We've been on a wild journey in this NFL life, but we are blessed to be in the situation we are in," Tori wrote in her post for The Increase Women. "We've learned it is best to just embrace this crazy lifestyle and enjoy the process that God is constantly crafting"
Or as Eagles Nation would put it: "We all we got. We all we need."
GO BIRDS!!