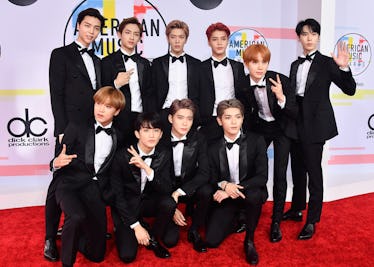 Meet NCT 127, K-Pop's Latest International Superstars You're Bound To Fall In Love With
Frazer Harrison/Getty Images Entertainment/Getty Images
The world of K-Pop has a new sensation to fawn over. NCT 127 is starting to take the music world by storm with its large group and diverse songwriting strategy. So who is NCT 127? What do K-Pop fans need to know about the new group? Their strategy for a more global reach is pretty interesting. NCT 127 is a South Korean group of 10 members — Taeyong, Jaehyun, Yuta Nakamoto, Taeil, Doyoung, WINWIN, Mark Lee, Hae Chan, Johnny, and new addition Jungwoo. NCT stands for Neo Culture Technology, and the 127 represents the coordinates of Seoul, South Korea, which is the group's home base.
While you may think 10 people in one pop group is big enough on its own, the most interesting part about NCT 127 is that the group is part of an ever-expanding collective of groups that will be based all around the world. Right now, there are three groups — NCT 127, NCT U, and NCT Dream — but more are rumored to be debuting by the end of the year.
It's an ambitious and unique structure for sure, considering that you can never tell going into a project of any kind what is going to stick in terms of popularity. The collective could succeed as a whole, but NCT 127 really seems to be making their mark stateside.
One of the group's new singles, "Regular," was recorded both in Korean and English because the group's main goal is to reach as global of an audience as possible (that's also the reason they record songs in Japanese). The song's vibe is Latin-infused, further showing their desire to incorporate as many different musical styles they love.
"We've realized that we wanted to focus on spreading our music to the world," Mark said in an interview with Apple Music, "so we needed an English version of the song, and we wanted our international fans to listen to it as well." NCT 127 is also Apple Music's first K-Pop "Up Next" artist.
You can check out "Regular" here.
As part of Apple's "Up Next" series, the group will be highlighted across Apple Music platforms for the month of October and have a documentary coming out about them.
NCT 127 is currently placed at number three on the Billboard social chart, just one place below Louis Tomlinson and two places below fellow K-Pop sensation BTS. Yes, these two K-Pop bands have more global social media popularity than artists like Beyoncé, Drake, and Justin Bieber. In fact, Louis Tomlinson is the only artist in the top six Billboard Top 50 social chart that isn't a K-Pop group. (The other groups are GOT7, EXO, and MONSTA X.) Despite their current placement on the Billboard chart, NCT 127 was not nominated for Top Social Artist at the 2018 Billboard Music Awards. BTS was nominated along with Justin Bieber, Ariana Grande, Demi Lovato, and Shawn Mendes, and the group ended up taking home the win. But if NCT 127 continues this popularity streak, it's possible they could snag a nomination in the category next year.
That all depends on their fans, given the nature of the category being based on social engagement. All pop sensations have a name for their collective group of stans.
NCT 127 stans are cleverly called "NCTzens," and these fans are in love with NCT 127's new album, Regular-Irregular, which dropped on Oct. 12.
Regular-Irregular - The 1st Album is — you guessed it — NCT 127's first album, so NCTzens have a lot to look forward to moving forward.