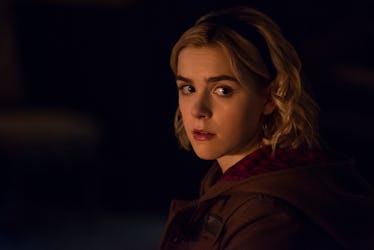 You'll Definitely Recognize Young Sabrina In The Holiday Special
Diyah Pera/Netflix
We only have two weeks left before the Spellmans return in Netflix's Christmas special Chilling Adventures of Sabrina: A Midwinter's Tale, and fans are in for some time traveling. According to Entertainment Weekly, the episode will feature a younger Sabrina and her quest to ask Santa for a special present. After you move past the striking resemblance between Sabrina star Kiernan Shipka and her little counterpart, you'll probably recognize the actress playing a young Sabrina. Who is Mckenna Grace? The 12-year-old star has had a busy past few years, and this isn't the first time she's played a younger version of a character.
Set to launch on Netflix on Dec. 14, Chilling Adventures of Sabrina: A Midwinter's Tale seems that it may focus more on the past and holiday traditions rather than the ongoing drama in Sabrina's town of Greendale. As reported by EW, a statement from Netflix about the special reads:
During our holiday special, we'll get to see what Sabrina was like as a precocious tot. And while The Church of Night celebrates the Solstice, that doesn't stop Li'l Sabrina from asking Santa for something special.
The casting of Grace as young Sabrina was announced on Nov. 28, and based on this sneak peek of her in costume, her involvement was a smart decision. While Shipka has grown since her child star days on Mad Men, Grace currently bears a scary similarity to Shipka's own younger self. The two girls first met in January 2018, and alongside a photo of them together, Grace tweeted, "No, we are not the same person."
Are you sure you're not long-lost sisters, though?
Chances are you've spotted Grace in numerous roles before, and her impressive list of credits is almost reminiscent of prolific '90s child stars like the Olsen twins or Amanda Bynes. After first making a mark on TV in a role on The Young and the Restless, she appeared as Max's friend Rose on Fuller House and starred as a child genius alongside Chris Evans in the movie Gifted. Grace also maintained a steady TV gig playing newly minted First Daughter Penny Kirkman on Designated Survivor. She's a busy gal, and I feel retroactively embarrassed for any laziness my 12-year-old self displayed.
Having played young Theo on recent Netflix hit The Haunting of Hill House, Grace is no stranger to dropping in on streaming smashes. Her role on Chilling Adventures of Sabrina must also feel like familiar territory after all of the other young character roles she's played. After appearing as young Tonya in last year's I, Tonya, Grace will play a young Carol Danvers in March 2019's Captain Marvel. Her time as Sabrina Spellman is exciting, but it's clearly just one of many interesting projects Grace has snagged recently.
Grace will join the entirety of Chilling Adventures of Sabrina's regular cast for the holiday special, but as of now, there's no word of her guest starring in the Netflix drama's second season. She obviously has a packed schedule, but fingers crossed that Grace can stop by Greendale for some more appearances soon.
Chilling Adventures of Sabrina: A Midwinter's Tale begins streaming Friday, Dec. 14, on Netflix.