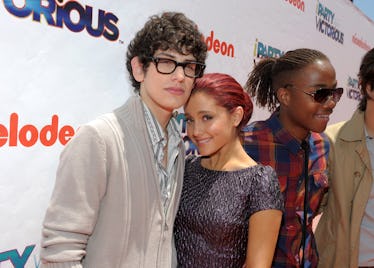 Ariana Grande's 'Victorious' Co-Star Makes A Hilarious Cameo In The "Thank U, Next" Video
Michael Buckner/Getty Images Entertainment/Getty Images
Ariana Grande's video for "Thank U, Next" drops on Friday, Nov. 30. And while she's been promoting the heck out of the video, her fans are learning a lot about her inner circle. Not only are all her besties making cameos in the video, but so many celebs and people from her past are appearing in it as well. Take Matt Bennett, for example, who appeared in a behind-the-scenes sneak peek video that was posted to Grande's YouTube channel. Bennett's appearance in the video has raised some questions that are actually pretty simple to answer. So, who is Matt Bennett? And what's he doing in the behind the scene video for "Thank U, Next"?
Dedicated Arianators out there will know Matt Bennett from his time on Victorious, during which he co-starred on the show with Grande herself. He appeared on the show from 2010 to 2013 and played the role of Robbie Shapiro. Since then, Bennett has made appearances on Shameless, American Vandal, Fresh Off the Boat, Grey's Anatomy, and The Big Bang Theory. So, he's pretty much a seasoned actor at this point.
His acting skills and association with Grande even landed him a role in Grande's video for her song "One Last Time," which was released back in 2015. You can check Bennett out in the "One Last Time" video down below:
As for his role in the "Thank U, Next" video, the full extent of it remains to be seen, but if you watch the behind-the-scenes video very carefully, you can spot him playing some football as Grande sits and watches. So, it's very likely he's been cast as Warner (or a friend of Warner's) for the video's homage to Legally Blonde.
In other parts of the video, you can see Bennett brushing his teeth alongside Grande in front of the cameras, an iconic scene from the movie Bring It On. From the way it looks, it seems Bennett will play Cliff. At certain points, Bennett is also addressing the camera directly. So, his role might be even more extensive than those two characters. Who knows? I guess everyone will just have to wait until the video drops to see how his role in it plays out!
You can watch the "Thank U, Next" behind-the-scenes video below:
Bennett isn't the only acquaintance of Grande's that's been cast in the video. Her best friends Courtney Chipolone and Alexa Luria have also been cast in the video, as well as her other Victorious co-star, Elizabeth Gillies. Along with Grande, this eclectic group of young women make up a modern-day version of "The Plastics" from Mean Girls.
Here's a look at "The Plastics" for the "Thank U, Next" music video:
And a bunch of other notable names and faces, like Colleen Ballinger and Gabi DeMartino, made cameos in a teaser trailer for the video.
So, this is really going to be a star-studded video with lots of famous names and faces that most people will recognize. And Grande is hyping the video up as much as possible. I'd bet anything that she's super proud of making this video happen. She's a huge fan of Mean Girls, after all, and this was such a huge project that it has to feel good to finally bring it all together. Can't wait to see it!