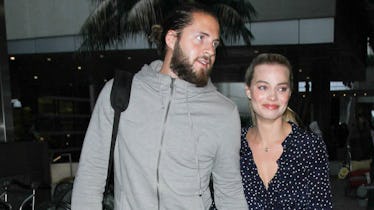 Margot Robbie Is Married To A Film Director & Their Relationship Is Goals
starzfly/Bauer-Griffin/GC Images
With the rave reviews coming in for the biopic film I, Tonya, Margot Robbie is in the spotlight once more. Last time her name was plastered across the marquee, it was for the shockingly terrible Suicide Squad. This time, she's earning accolades and nominations for her portrayal of Tonya Harding, the notorious '90s-era ice skater. But when it comes time for the Golden Globes, where she's nominated for Best Actress, who will Robbie arrive with? Does she have a date? Who is Margot Robbie's husband? Is he someone in the business, or is he a man who avoids the spotlight?
What if I told you the answer was both?
Margot Robbie has only been famous in the states since 2013. (Before that, she was on the soap opera Neighbors in her home country of Australia.) But her goal of keeping her private life private means that fans had no idea if she had a plus one or not.
But by 2016, when the frenzy around Suicide Squad had people asking about her love life nearly every week, she had already met and had been seeing the man she would marry, Tom Ackerley, long term. They tied the knot in December of that year, but it wasn't until after that she finally revealed they'd been dating since 2014.
So, who is Tom Ackerley? He's a professional in the film industry, but from behind the camera, not in front. He and Robbie met when she was working on the 2013 World War II drama Suite Francaise, where he was assistant director.
In one of the rare interviews in which she's spoken about him, Robbie admitted to US Weekly that their relationship was merely a natural progression, since they were sharing a group house when working on that film.
My husband and I were roommates before we were even dating, so I'm kind of living with my roommate and it's awesome. We lived with a bunch of people and now we're just living [as] the two of us, so we feel very grown up now.
Ackerley is from the U.K., born and raised in Guildford, Surrey, and was educated at Godalming College. Since marrying, the two settled in London for a spell, but recently moved back to Los Angeles, which is probably more practical considering their jobs.
Speaking of which, while Robbie is the better known because she's in front of the camera, Ackerley's no slouch in the resumé department. The films he's worked on as either assistant director or in a producer role include Macbeth, Pride, and The Two Faces of January. In fact, it was Robbie who pursued him, not the other way round.
I was the ultimate single gal. The idea of relationships made me want to vomit. And then this crept up on me. We were friends for so long. I was always in love with him, but I thought, Oh, he would never love me back. Don't make it weird, Margot. Don't be stupid and tell him that you like him. And then it happened, and I was like, 'Of course we're together. This makes so much sense, the way nothing has ever made sense before.'
Since marrying Robbie, the two apparently have decided that they love to work and play together. He has a production credit on her upcoming film, Terminal, as well as one on I, Tonya.
Check out the promotional image he shared on his Instagram:
In fact, Robbie and Ackerley enjoy working together so much, they chose to film I, Tonya together instead of going on a honeymoon, though Robbie admits she sometimes regretted the decision.
Speaking to Extra, she said:
There were times we were sitting in a car parked in Atlanta freezing cold being like, 'We should be on a beach right now. We should be on a honeymoon.'
Hopefully, those Golden Globe and SAG invitations make up for all the sacrifices they made. I, Tonya is in theaters now. Hopefully, fans will see Robbie and Acklerley together on the Golden Globes red carpet on Sunday, Jan. 7, 2018.