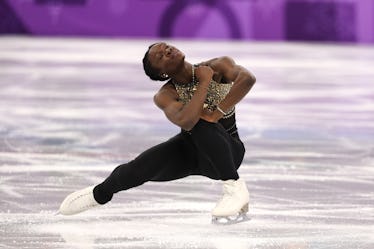 This French Figure Skater Is Bringing Beyoncé To The Ice & I'm Already A Fan
Maddie Meyer/Getty Images Sport/Getty Images
Is it safe to say that figure skating is the most popular Winter Olympic sport? My vote is one thousand percent yes. The drama and pageantry of these skaters captures the hearts of millions of viewers worldwide, and the storylines that come out of figure skating can often become iconic (see: Tonya Harding). Well this one French skater's individual performance is a story of its own, because any routine as bold as hers deserves a shoutout — also because Beyoncé is involved. So who is Maé-Bérénice Méité?
23-year-old Méité — who skates her short program to a Beyoncé medley — hails from France and PyeongChang is her second Winter Olympics. She began figure skating at age five in Paris, so this girl has a solid number of experience years under her belt. But aside from skating, she's also a Management student studying at the Institute of Sciences of Management and Business in Montpellier, France. In 2016 Méité decided to move to Chicago, Illinois to train under Shanetta Folle, who she had worked with before.
That training switch must have certainly paid off, because this powerhouse has brought her A-game to the 2018 Olympics and showed that she means serious business. And if her Beyoncé routine isn't reason enough, another reason why this particular skater stands out? Méité has oped to wear pants (or full-length bodysuit, rather) instead of wearing a more traditional dress ballet-style dress for this performance in the past — and we might see the bold outfit again during the women's short program on Feb. 21 in PyeongChang (Feb. 20 in the United States).
She's been widely applauded for this decision on social media, and the skater has expressed her immense appreciation of all the love she's been getting during these Olympic games.
So, how hard will she bring it in the women's individual short program on Feb. 21?
I'm thinking pretty hard. I mean how can you not when you have Beyoncé as the soundtrack to your routine? When Queen B comes on my Spotify shuffle, I automatically walk with more confidence. So my guess is that Méité will feel that same surge of fierce-ness and skate her heart out.
This isn't the first time we've seen Méité perform this routine. Most recently she participated in the team figure skating competition and used her Beyoncé-medley ladies single short program to contribute to Team France's overall score. She earned a score of 46.62 and came in ninth, contributing to France's tenth place finish in the group figure skating event.
She also performed this same routine at the European Figure Skating Championships on Jan. 18. Méité finished in tenth place with a score of 54.14 — which was significantly higher than the score she earned during the 2018 Olympics team event. But both of her performances have definitely caught the attention of viewers, and I am positive that the women's short program will be no different.
This is also the first Olympics Méité has competed in. During the 2014 Olympics held in Sochi, Russia, the skater faired fared fairly well. She finished tenth in the individual figure skating competition and sixth in the team event with her fellow Team France skaters. And this year she came back with extra attitude, as displayed by her choice of music. And I can't get enough of it.
Even though Méité is not predicted to make it to the podium by the time the women's individual figure skating event ends, her Beyoncé performance is sure to be one of the more memorable ones to come out of the 2018 Winter Olympics. This girl is clearly not afraid to be herself and show her personality on the ice, and that in and of itself is truly inspiring. I mean anything involving Beyoncé is bound to become iconic anyway — Olympics or no.