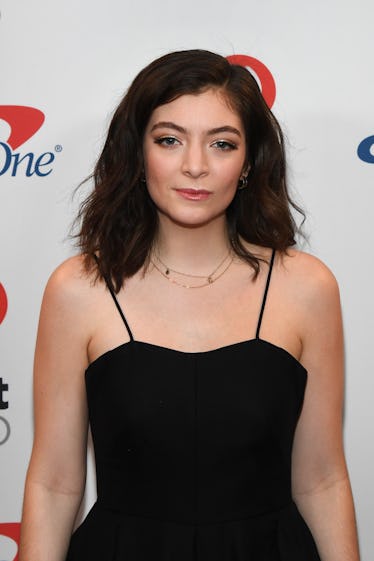 Lorde Is Living Her Best Life Solo & DGAF About Dating Rumors
Ethan Miller/Getty Images Entertainment/Getty Images
Lorde is hands-down the queen of cool. So who does the queen of cool allow into her inner circle? Spoiler alert: probably not you, and certainly not me. I mean, we know she's got a pretty intense posse of friends (including Taylor Swift, NBD), but what about when it comes to her dating life? While the singer stays relatively low-key about the details of her personal life, she has been photographed every now and then with people she's rumored to have been dating. So, who is Lorde dating now? Or is she dating at all?
Because she keeps her life pretty top-secret, it's hard to find a ton of info on who she's dated (and who can blame her? If I was mega-famous, I'd be ducking from paparazzi, too), but we do know a few people that she's been seen out and about with.
Let's start from previous years and work our way to the present, shall we?
Lorde dated photographer James Lowe.
While it's unclear as to when the pair started dating, it seems that they met when she was 16 years old, and he was 24. Yes, there was definitely an age gap there, but apparently it was deemed fine by her parents. In an interview with Rolling Stone, Lorde's mom, Sonja Yelich, addressed her daughter's relationship with an older man. She said,
I didn't say, 'Yeah, sure, go date a 24-year-old.' But her dad and I met James and we liked him. When Ella was much younger, her first boyfriend was older — four years or something.
And the award for "Coolest Parents of the Year" goes to... Lorde's mom and dad! Congrats, you guys. Well deserved.
Sadly though, the couple ended their relationship in 2015, and when her single "Green Light" came out, a lot of people thought that the song was about Lowe. In an interview on Beats 1, Lorde explained the true meaning of her lyrics from that song:
The song is actually about a heartbreak. And it's not something that I really am used to writing about. It took me a while to be able to figure out how to write about that. It was my first major heartbreak. And the song is really about those moments kind of immediately after your life changes and about all the silly little things that you gravitate towards. I say, "She thinks you love the beach, you're such a liar." What the f*ck, she thinks you like the beach?! You don't like the beach! It's those little stupid things.
Lowe even opened up about his relationship with Lorde, and, in a post on his personal blog, talks about how highly he thinks of her even after they called it quits:
Currently she is on the opposite side of the world on tour. As much as I miss her, I couldn't be prouder of what she has achieved so far. If you are lucky enough to attend one of her shows on this current tour, you'll experience more than just her voice. The production she has dreamt up looks incredible...I can't wait to see it myself next month.
Man, that is some heavy stuff. But everyone's gotta move on, and move on Lorde did.
Lorde has been rumored to be dating Justin Warren.
It seems that Lorde has been rumored to be dating Justin Warren, a promotions director for Universal Music (and someone she works with). The two were photographed in New Zealand together, frolicking on the beach, but Warren quickly dismissed the photos and the rumors that they were even dating. According to the New Zealand Herald, Warren said that he and Lorde (whose real name is Ella) are just "good friends" and that there's zero romance between them. He said,
Ella and I have worked together for years and we're good friends. Any rumours of us being 'a pair' are ridiculous. Ella has a really busy year ahead of her and we'll be spending more time together as plans for the next Lorde record unfold.
Not sure if I'm really convinced, TBH.
Lorde was rumored to be dating Jack Antonoff, but Antonoff shut down those reports ASAP.
After rumors started circulating Jack Antonoff and Lorde were an item, Antonoff took to Twitter to clear the air for his followers:
Fans thought the two might be an item because Antonoff co-wrote and co-produced Melodrama. However, the two are just friends.
So, because there's been no real confirmation of Lorde dating anyone, I guess that leads us to the conclusion that...
...Lorde seems to currently be single.
And why the hell not? She's young, she's talented as anything, and she basically has the world by the balls.
Go get 'em, girl.