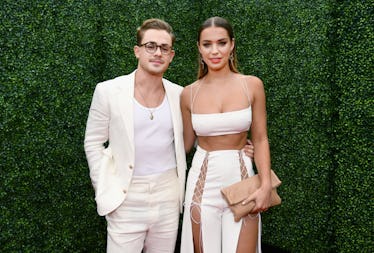 Who Is Liv Pollock? Dacre Montgomery's Girlfriend Is A Woman Of So Many Talents
Emma McIntyre/Getty Images Entertainment/Getty Images
Hi, there. I'm assuming you're here because you love Netflix's '80s sci-fi thriller Stranger Things as well as Dacre Montgomery, who played the troubled (and kinda womanizing) hottie, Billie. So, naturally, you want the deets on his social life. Well, you've come to the right place. I'll have you know he's in a seemingly strong relationship with a young woman named Liv Pollock. Who is Liv Pollock you ask? Well, I've scoured the net to get the 4-1-1 and, as it turns out, she's pretty cool.
Pollock Is From Australia
Pollock is a 20-year-old model from Perth, Australia. She moved to Sydney to pursue her modeling career and is currently signed to Aussie modeling agency Vivien's. If you check out her Instagram page, she's got a ton of beautiful beachside shots as well as a healthy following. You go girl.
On top of her modeling career, Pollock is an architecture student at the University of Western Australia. Though, she moved to the U.S. in April 2018 to be with Montgomery, who was filming season three of Stranger Things in Atlanta, Georgia at the time. Aww... following her heart.
Now, I'm sure some of you are wondering whether she really put her career and schooling on hold for some dude. Well, Pollock revealed to The Daily Telegraph, she didn't leave just for bae, but she was also fulfilling her own sense of wanderlust. "I'm having a gap year from architecture to explore and travel as I believe life experiences are an equally powerful means of learning," she said. Beautiful.
Pollock also has a plan to complete her degree and further her modeling career. "Modeling for me has been incredible. It has allowed me to meet fantastic people and taken me travelling. I will continue to pursue this career path coupled with finishing my architecture degree," she added. That's awesome.
Pollock's Got Farming Skills
Pollock also knows her way around livestock and has helped her grandmother prep sheep for wool production in the past. "I was so proud of the environment my grandmother had created," Pollock said to The West Australian in February 2019. "It looked like a very well-oiled machine, coupled with loads of '70s music, farm dogs and beautiful wool. If I can, I would love to help out at shearing time this year." Aww... she seems so humble.
Pollock Met Dacre Online, Kinda
Pollock also told The Daily Telegraph she and Montgomery shared mutual friends, but first started communicating online. "Perth being a small place, we knew each other through mutual contacts from work. Then through social media started talking, developing our relationship and it grew from there," she said. OK, so sliding into DMs is a viable approach to getting boo'd up. Noted. But seriously, Pollock and Montgomery have more than amazing genes in common. She revealed the two bonded over their shared love of design. In fact, Montgomery used to study it.
"We are both also really passionate about design — I'm studying architecture and Dacre has studied interior design so we were drawn to each other through our mutual love of design," she said. Wow, you learn something new everyday.
Pollock Is Super Confident In Her Relationship With Dacre
Pollock's also got a ton of confidence and is totally secure with dating a Hollywood dreamboat. "It doesn't change anything, our relationship has been built on our similar values and an adventurous nature," she also explained to The Daily Telegraph in April 2018. "Just because his career places him within the public eye, doesn't and would never be a factor that we would let influence our relationship, nor should it." OMG, yasss queen. Preach it.
I don't even know her, but I like her. Liv Pollock and Dacre Montgomery it sounds like you two were made for each and just so you know, I'm rooting for you two.