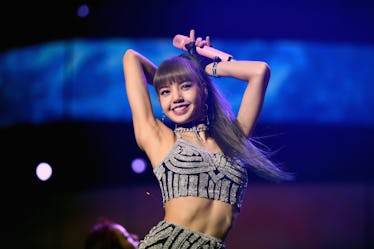 Here's Everything To Know About BLACKPINK's Dance Queen, Lisa
Rich Fury/Getty Images Entertainment/Getty Images
BLACKPINK in your areaaa! It's the phrase that every fan of the K-Pop girl group knows by heart and while these four ladies are a force when they're together, they are equally as fierce on their own. The band is comprised of four members: Jennie, Lisa, Jisoo, and Rosé, but — as any stan knows — these gals are some incredibly talented individuals. Personally, Lisa's been my bias as of late and if you're sitting at home wondering, "Who is Lisa from BLACKPINK?" I've got you covered.
First of all, the girl can DANCE. I mean really dance. She may be BLACKPINK's maknae, but that hasn't stopped her from adopting a "go big or go home" mentality. Plus, she's notably one of the only members of the group that doesn't hail from Korea. Did that stop Lisa from joining one of the biggest female K-Pop groups of all time? NOPE. The singer hails from Thailand, but she set her dreams on superstardom early on and never looked back.
So, exactly who is Lisa from BLACKPINK? In addition to being an incredibly talented singer and performer, she's got a lot going for her, and if you want to hear all the impressive deets, look no further.