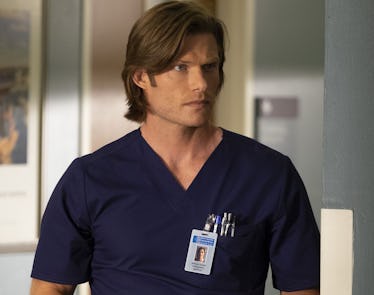 Things Are Heating Up At Grey Sloan, 'Grey's Anatomy' Just Introduced The New Ortho God
ABC
You know what Grey's Anatomy apparently thought it had a shortage of? Hot guys. The additions to Season 15 include Alex Landi as Dr. Nico Kim and Nashville's Chris Carmack as an Ortho God who goes by the name of Link, short for Atticus Lincoln. By episode two, viewers have seen Link without a shirt on, in Meredith Grey's fantasies, even though they just met. So since fans already know what he looks like half naked, who is Link on Grey's Anatomy? He may not be the brightest bulb, but he's damn good at his job. Warning: Spoilers for Grey's Anatomy Season 15 follow.
In the opening episode of Grey's Anatomy, Link is introduced as having been the personal orthopedic surgeon to the Seattle Mariners, suggesting he's not just excellent at surgery, but he's really into sports. He's definitely into music. His first time in the OR with his new colleagues, he's blaring electronic dance music, claiming he doesn't need to hear himself think. Surgery is muscle memory in the hands, and he insists he does better when drowning out his own thoughts.
Dr. Kim, who seems to be his assistant apparently agrees, since he's practically turning the operating theater into a dance club.
Perhaps the music does help Link concentrate on his job, but it's not really helping him figure out how to communicate with the other doctors in the hospital. He confounds Dr. Bailey by trying to use sports metaphors for her impending time away from the chief's position. He stuns Owen by revealing he spent four years working in a bike shop.
As for Meredith, the moment he finds out she's not married (to her work, or to anyone else), he's asking her out on a date. And no, that didn't happen in her fantasies. That happened in the hallway outside the matchmaker's hospital room.
Not that Meredith is impressed. After all, this is a guy whose name is Atticus Lincoln. His first name is taken from one of the giants in the American literary canon, Atticus Finch, and his last name is from one of the giants of history, Abraham Lincoln. And he chooses to go by... Link. Because it's shorter.
Any questions?
Listen, Dr. McDreamy wasn't always the smartest guy in the room either, and he and Meredith got along just fine. They even got married! So just because Link isn't the sharpest knife in the Grey Sloan Memorial Hospital drawer, it's not the end of the possibilities.
After all, though Meredith isn't very impressed with Link as a person, she is distraught over the idea that she's married to her job. Jackson's comment she was really rubbed her the wrong way. Even as she's talking to Link, she releases she's lying about having a life outside of work. She doesn't. She has surgery.
Perhaps Cece the matchmaker is right after all. The woman may need a new heart and new kidneys, but Meredith needs to open her heart and move on to the next man. Maybe Cece will find her one. Perhaps she'll turn up with Link as Meredith's best match. But Dr. Grey won't know until she's tried.