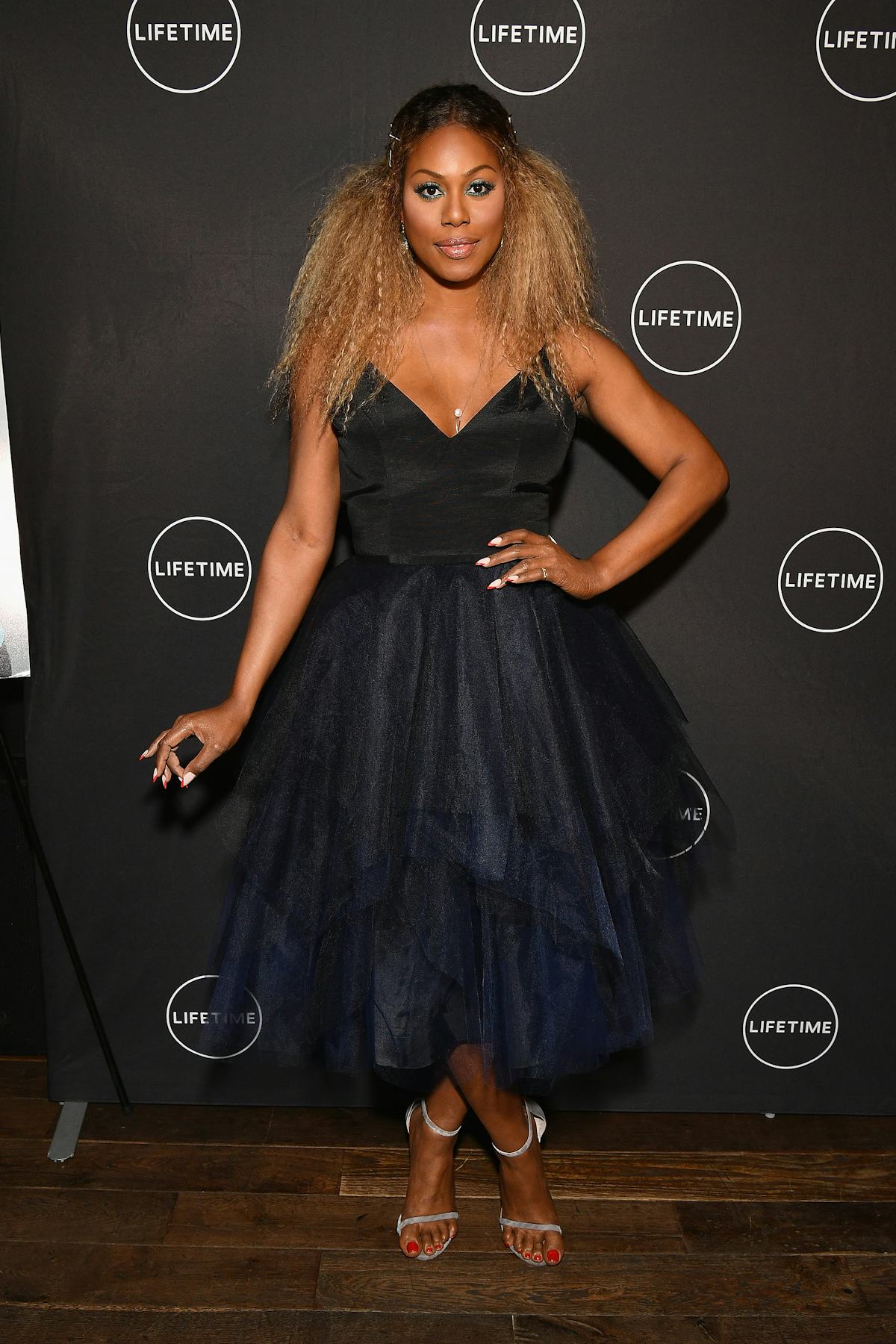 Laverne Cox Opened Up About How She Met Her Boyfriend & Their Story Is So Cute
Dia Dipasupil/Getty Images Entertainment/Getty Images
It's a scientific fact that Laverne Cox slays no matter what she does. She's an incredible actress (Orange is the New Black has always been my actual jam), has the most enviable wardrobe, and always speaks her mind. Because she's seemingly what I like to call the "whole package," many fans wondered if she's living that single life or if she's off the market. Well, it seems like she has a special someone in her life already. So, who is Laverne Cox dating?
Cox went on Access Hollywood and talked about her love life and how — news flash — Tinder is where it's at if you want to meet someone. So when she broke up with her ex-boyfriend, Cox decided to get back out there, and went back on Tinder to do some soul-searching.
"I feel like if you want to date, you have to be on the apps. You have to be on the apps to be in the game ... you have to take the risk," she said.
Yas, queen!
She also revealed that because of her fame, she's gotten very good at screening profiles, and if she finds a man that she's interested in, she purposefully shows up to her first date looking a little less than her totally done-up, fabulous self:
I'm not putting effort into a guy I don't know yet ... You might not look like your pictures. You might smell. I showed up with my current boyfriend … like with no makeup. I had some jean shorts. And it worked out.
Hold up, did she say "current boyfriend"?
You bet she did!
AND she revealed that they have been dating for eight freaking months! That's like, a decade in Hollywood, just sayin'.
"It's amazing ... I'm in love," Cox continued. BRB, I just need to go stop my eyes from leaking. Though she didn't identify her boyfriend by name, she said that they've already met each other's families, and that "everybody gets along," so we're just going to sit patiently and wait for a wedding date from these two.
In case you needed more proof that Cox has been hit by Cupid's arrow, she said:
It's like, love is so incredibly healing. It's weird talking about this on TV, but I'm just so happy. When you're happy … love is life-saving.
That's it. I'm dead. We can all go home now, because Laverne Cox just made us all believe in true love.
As fate would have it, Cox went on Access Hollywood back in August of 2017 and talked about how, at the time, she went on a second date with ~someone~. If my calculations are correct, she might have actually been talking about her current boyfriend, considering that was about seven months ago.
And, just like her most recent interview, Cox said that she simply doesn't "glam up" when it comes to going on dates. She said,
My whole dating thing is that I show up as Laverne. I don't glam up, I give maybe a little powder for shine, and I'm like, 'This is it.' Because the first few dates, you don't know if they're going to last or not, I'm not putting the effort in. I'm going to put the effort in once you've proven that you deserve all of this.
She also talked about how dating has changed for her. As she got older, she started to care more about how she feels for the person she's dating. "Do I like you? Do we have anything in common? Are you into the real, authentic Laverne stripped way down?" Cox said.
I'm just going to go out on a limb and assume that her newest Tinder romance certainly put the effort in, and man, I am FEELING this little love story they've got going on.
Laverne, if you're reading this, please show off your man at your next red carpet event. Or, at the very least, reveal his name so that we can all Google him. Thanks in advance!