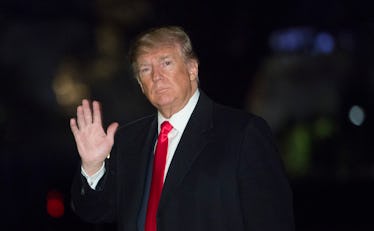 Donald Trump's New Economic Adviser Fits Right Into The White House Priorities
Pool/Getty Images News/Getty Images
Another day, another new member of Trump's cabinet. On March 14, it was announced that a new economic adviser would be replacing former adviser Gary Cohn. So, who is Larry Kudlow? Well, he's no stranger to the screen.
On March 14, Larry Kudlow announced that he has accepted the position as the director of the White House's National Economic Council. Kudlow will replace former advisor and Goldman Sachs executive Gary Cohn. So, who is this latest addition to Trump's constantly rotating team? He might look familiar to some of you since he's well known as a huge talking head among numerous media channels. Among his credits include hosting former CNBC program The Kudlow Report, WABC's The Larry Kudlow Show, and serving as a contributor to The National Review.
As a media figure Kudlow hasn't kept his conservative political leanings a secret, especially while discussing his upmost support of tax cuts. He has particularly praised Trump's recent tax-cut legislations that signed into law in Dec. 2017. In fact, on Dec. 23, 2017 Kudlow wrote an op-ed for CNBC titled "With This Tax Cut, Trump and the GOP are On the Side of the Growth Angels," relaying his support of the decision.
He wrote,
Trump and the GOP are on the side of the growth angels with the passage of powerful tax-cut legislation to boost business investment, wages, and take-home family pay. The Democrats, meanwhile, are left with stale class-warfare slogans about tax cuts for the rich. If the supply-side business tax cuts perform as well as I believe they will, Trump and the GOP, with the stroke of a pen, will have greatly enhanced their outlook for the midterm elections.
Let's not pretend that it's not a bit ironic that Kudlow, a huge television personality, will be joining Donald Trump, another huge television personality (who reportedly watches a whole lot of cable news), in the White House. Prior to his media debut, Kudlow worked on Wall Street as an economist for the now defunct Bear Stearns company. However, he left his position in 1994 due to admitted problems with cocaine, for which he later attended a rehab center, according to The New York Times. But despite his time on Wall Street, Kudlow is now much better known for his appearances on the television screen.
Out with the old and in with the new. Judging from how much turnaround there's been within the Trump Administration during its first year, I now decree that the official White House motto.
Kudlow will replace former director of the White House's National Economic Council, Gary Cohn, announced his resignation on March 6. Cohn left his position as president and chief operating officer at New York City-based Goldman Sachs in order to join the White House in 2017, however, tensions appeared to start rising between him and Trump once the president formally announced his plan to impose a 25 percent tariff on steel imports and ten percent on aluminum imports to the public on March 1. The tariffs reportedly caused friction between Trump and Cohn, leading many to believe that's what prompted Cohn's resigned.
On March 6 Cohn released a statement through the White House announcing his resignation. In the statement, he thanks Trump for the opportunity to serve as director of the National Economic Council.
He wrote,
It has been an honor to serve my country and enact pro-growth economic policies to benefit the American people, in particular the passage of historic tax reform. I am grateful to the President for giving me this opportunity and wish him and the Administration great success in the future.
Thanks for the good wishes. I have an itching feeling that we're going to need them.