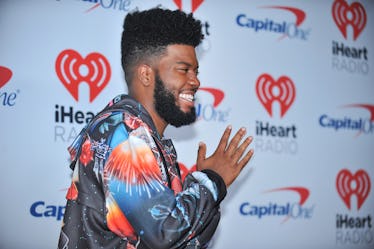 Who Is Khalid Dating? Fans Are Shipping Him And This Fifth Harmony Singer
Sam Wasson/Getty Images Entertainment/Getty Images
If you're ever looking for new music to add to your Spotify or just want to enjoy overall powerful figures in the music business, I highly recommend checking out Khalid. At just 19, the singer already took home Best New Artist at the 2017 MTV Video Music Awards, making him a must-watch on the music scene. To top that off, his banger "Location" is nominated for Favorite Song at this year's American Music Awards. With all the attention for his musical success, some fans are wondering more about his personal life — specifically, who is Khalid dating?
Not to be a creep, but I totally creeped HARD on Khalid. His Instagram and Twitter are totally devoid of any potential significant other. This actually comes as no surprise — between touring and constantly creating new music, he's probably extremely busy.
The rising star comes from a really interesting background. His mother was in the military so he moved around a lot as a kid. This lifestyle mixed with his mother's influence made Khalid the music-obsessed person that he is. He told USA Today in March of 2017,
I feel like growing up with my mom was the foundation of my (interest in music). In my home, we listened to music all the time. I was raised through music, and I've been interested in it since I was three. I've been singing since I could talk correctly.
Khalid experienced an extremely tough move when he and his mom packed up for El Paso, Texas from the small town of Carthage, New York as he started his senior year of high school.
When he moved, he left behind a group of friends and a longtime girlfriend. He told Teen Vogue in March of 2017 about the move to El Paso,
That sense of devastation knocked me into writing songs to get out all of my feelings. I had to break-up with my girlfriend of four years when I moved and suddenly all of the friends I had made in New York weren't there anymore. As a response I wrote 'Saved,' which is a story of resentment and loneliness.
Many people credit Khalid's move to El Paso as the final push he needed to create music and find his true voice.
Personally, I think he's so talented and would have eventually found his way to the spotlight.
As for new romances on the horizon, Khalid keeps it very low-key. Fans have been shipping him and Fifth Harmony singer Normani Kordei hardcore. The two are self-proclaimed BFFs in real life, and Kordei even stood alongside Khalid in the music video for "Young Dumb & Broke."
Khalid explained to MTV that Kordei being in the music video was a last minute surprise. He said in August,
Me and Normani are like this [crosses fingers]. So I was just texting her, out of nowhere, super last minute. I'm like, 'Do you wanna come to the video shoot?' and she's like, 'Yeah, on my way.'
He continued,
Every time we're around each other we always have so much fun. She's such a cool girl, she's so nice, and she's such a sweetheart. I'm just thankful that she's in the video because I'm pretty sure it's not the first thing that we're going to be in together. I would love to [collaborate]. The chemistry is there, so definitely the song or the piece or whatever would be great.
Khalid is definitely not afraid to gush about Kordei. The two are just friends, but you never know what the future holds.
Basically, I'm obsessed with Khalid and only want good things for him. His music is absolute fire, and I'm sure we're going to see a lot more amazing things from him.
Don't miss Khalid's performance during the 2017 American Music Awards on Nov. 19. The show starts on ABC at 8:00 p.m. EST.
Check out the entire Gen Why series and other videos on Facebook and the Bustle app across Apple TV, Roku, and Amazon Fire TV.