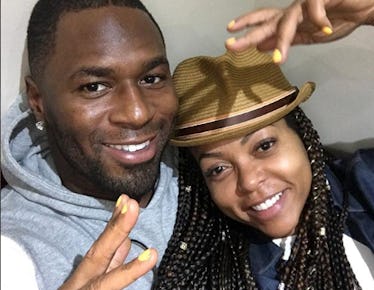 Taraji P. Henson's New Fiancé Proposed On Mother's Day & The Ring Will Blow Your Mind
Instagram / Taraji P. Henson
Pop the champagne, there's a wedding happening! No, not the royal wedding, but close enough! Taraji P. Henson is engaged to her long-term boyfriend, Kelvin Hayden, and Empire fans are loving it. The quiet couple made it official over Mother's Day weekend and fans are playing catch up on Henson's love life. Mainly, people are asking, "Who is Kelvin Hayden?" Guys, who do you think he is? Just a gorgeous, successful, retired professional NFL player and celebrity in his own right. Duh.
Hayden used to play for the Chicago Bears as their cornerback and first began courting Henson in 2015. Even though the couple kept their relationship on the down-low, Hayden and Henson have actually been together for two years. That's long enough to decide, "Yup. Let's be eternal soulmates." On Monday, May 14, Henson posted a picture of her stunning engagement ring and chocolate covered strawberries on Instagram to announce the good news. Apparently, Hayden did an ol' bait and switch, first gifting Henson with a gorgeous bracelet and then following that up with the engagement ring.
Henson wrote,
I said yes y'all!!! He started with the Cartier love bracelet BUT that was my #Mothersday gift and then he dropped to his knee and I almost passed out!!! [laugh/crying emojis] #sheisofficiallyoffthemarket and she is sooooooooooooo HAPPY!!!!!! #GODIS [diamond ring and kissing emojis]
If I can be completely honest, it's a pretty bad picture of the ring. But, even out of focus and in dark lighting, you can tell it's something special.
Like I mentioned, Henson and Hayden have been dating for some time, but only first made their relationship public in December of 2017. At the time, Henson alluded to her boyfriend during an interview with Yes Girl! podcast, explaining, "I'm happy in my personal life. Finally, it has happened to me!"
She later added,
You know, I'm not the type to blast my personal business, but you know, I think that it's important for people to know that I'm happy. I'm very very happy. I just am. We've been together for two years. And no one would really know that because I don't blast my info like that but I'm very happy.
Henson, 47, is actually 13 years old than Hayden, 34. But, despite their age difference, the two couldn't seem happier. In doing some slight stalking, it looks like the engagement ring isn't the first big gift Hayden gave Henson, either.
A few months ago, Henson began posting pictures of a sweet little french bulldog, apparently gifted to her by Hayden. In the pup's debut photo on Instagram, Henson wrote:
Christmas came early!!! Thank you #ZaddyBear I [heart] u so much!!! y'all Meet #K-Ball!!! Thank you @pitfallkennels_lilbrotha @therealbigboi he is going to get soooooooooo much love!!!
(Side note: Very excited to start calling my own fiancé #ZaddyBear.)
People magazine caught up with Henson during her performance on Lip Sync Battle Live back in January and got a little dirt on her relationship, too. At the time, she described Hayden as her "number one fan." She told the magazine, "He's watching right now. I just got off FaceTime with him. He was like, 'Baby, I'm watching right now!' It doesn't make me nervous, because he supports me." She added, "He's just, like, my number one fan. There for support. What I love is that he doesn't really pay attention to it all. He loves me for me."
Listen, I don't know either of these people personally, but I can only assume it's going to the an epic wedding.
Congratulations you guys! (More ring pics, please!)
Check out the entire Gen Why series and other videos on Facebook and the Bustle app across Apple TV, Roku, and Amazon Fire TV.