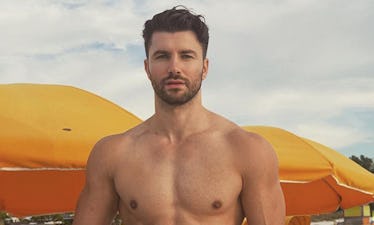 This 'Bachelorette' Contestant's Occupation Is A Social Media Participant & TBH, Same
After what felt like years of waiting, Becca Kufrin's Bachelorette contestants have finally been named, and we've got some amazing guys coming this season. One of those is Kamil, a 30-year-old male model from Monroe, New York who says his occupation is Social Media Participant. Honestly... why didn't anyone think of this clever job earlier? So, who is Kamil on The Bachelorette?
First of all, Kamil isn't even the only male model to join Becca's cast of 28 men this season. Jordan, 26, is also a model... and let me just tell ya, neither of them are too hard on the eyes. In the Facebook Live announcement of the Bachelorette contestants, Chris Harrison says of Kamil,
Kamil. Also a model, different look than Jordan. Thirty years old, Monroe New York, social media guy. He doesn't have the blue steel that Jordan has, doesn't talk as much about being a model, but handsome in his own right.
Harrison, you got that right. Kamil's Instagram page says he's represented by Wilhelmina modeling agency and he's a real estate agent and adventure-seeker. He also has a fitness website, where he offers one-on-one fitness training and diet plans, if that's your thing. Kamil hasn't yet publicly addressed the fact that he's on The Bachelorette this season, but his gym photo from two days ago could have been taken as a tiny, tiny, tiny clue. He wrote, "It's YOU or the Other Guy." Hmmmm, or maybe 27 other guys?
Here's a quick look at the kind of content you'll get from following Kamil on social media.
Selfies With A Cute Dog
Selfies In The Gym
More Dog Pics
More Gym Pics
You get the idea.
Fans on Twitter are losing it over Kamil identifying as a social media participant in his Bachelorette bio.
Same, Kamil. Same.
Some of the other amazing jobs we got during the Bachelorette reveal were colognisseur (some kind of cologne expert, I'm guessing?), a stunt man, and a grocery store owner.
Honestly, I'm just excited to start this new season of The Bachelorette and hopefully watch Becca find her true love – especially after all that Arie drama. It may be a new season of the show, but we'll definitely be hearing about the former Bachelor a bunch during Becca's reign. After the split, Becca opened up to People about how devastated she was when Arie broke off their engagement after initially proposing to her at the end of his season of The Bachelor. She said,
He did get down on one knee, he did propose to me, he did say, 'I'm committing to you, I choose you every day.' That's something that I only wanted to happen once in my life, and it's been robbed from me, and I can never have that one time moment again. And the second part is that he lied or hid his true feelings and emotions for weeks and weeks and weeks. The number one thing that I value in a relationship is honesty and loyalty, and I feel like I wasn't given that.
The beginning of Becca's season will definitely address her breakup with Arie, and how it was for her to move on from that. Fans could see that in the Bachelorette promo released by ABC on Friday, May 11. The promo says, "Becca's got 28 new bachelors putting it all on the line. Only this time, they better not chicken out." BURN!
Get your roses and your rosé ready, because Becca's season of The Bachelorette starts on Monday, May 28 at 8 p.m. ET on ABC.