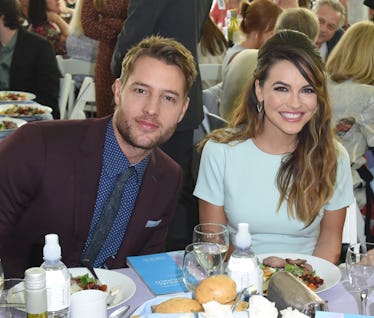 Justin Hartley & His New Wife Are The Couple You Need To Watch In 2018
Vivien Killilea/Getty Images Entertainment/Getty Images
On the current season of This Is Us, in between sobbing over Kate's miscarriage and Randall's foster kid experiences, most of the tears have been reserved for Justin Hartley's character, Kevin, and his complete disaster of a personal life — including blowing up his relationship with childhood sweetheart, Sophie. But IRL, Justin Hartley's off-screen life is going swimmingly. Not only is he on an Emmy-winning and Golden Globe-nominated series, but he just got married this past fall. Who is Justin Hartley's wife, Chrishell Stause? Is she someone who is a fellow This Is Us star, or someone he met outside of work?
Her full name is Terrina Chrishell Stause, and she's originally from Draffenville, Kentucky. She goes by Chrishell Stause professionally. Her unique first name is claimed to be from her mother going into labor at a Shell gas station, where the attendant, Chris, helped get her to the hospital.
She is an actress, but she's not on NBC's hit drama. Her face is one that will be recognizable to fans across the soap opera world though, having starred as Amanda Dillon in the long-running ABC soap opera All My Children. The role was previously played by Alexis Manta, but Stause took it over in 2005 after the character returned after "a five year absence."
Stause stayed in that role for the next six years, until the show was canceled in 2011.
Afterward, Stause landed a guest star role on Body of Proof, and like Kevin on This Is Us, got herself into an improv troop, The Groundlings, while looking for work. That lead to another soap opera — Stause played Jordan on Days of Our Lives, and then moved on again to play Bethany Bryan on The Young and the Restless. Her character has been on hiatus since August though as she works on her first film role. She also took time off to get married.
Stause and Hartley got married on Oct. 28, 2017, four years to the day since they met. Talking to People Magazine, Stause, who had been engaged previously to Matthew Morrison from Glee, she knew right away he was the right man.
The next day I texted my friend: 'I found him.'
According to Hartley, who had been married once before, the feeling was mutual. They had met before in passing, but on their first actual date, sparks flew.
We met up at a concert and talked all night. I drove her home and called the next day. We haven't been apart since. I knew right away [and] was like, 'Oh boy, here we go.'
According to reports, the 75-person wedding included all of Hartley's This Is Us castmates, including Mandy Moore, Sterling K. Brown, Milo Ventimiglia, Chrissy Metz, Susan Watkins, and Chris Sullivan. And Chrishell Stause was very eager to take Justin Hartley's last name, according to her official statement to People. She also changed her name on her social media accounts.
They don't make them any better than Justin, and I could not be more thrilled to officially be Mrs. Hartley!
So, what is the power couple up to now that they are married?
Next up, they'll probably be appearing together on the red carpet of the Golden Globe Awards this coming Jan. 7, 2018, at The Beverly Hilton in Los Angeles. It will be their first official appearance together since getting married, and fans can't wait to hear all the details.
The 2018 Golden Globes will be hosted by Seth Meyers and they are set to air on Jan. 7 at 8 p.m. on NBC. This Is Us is nominated for three awards.