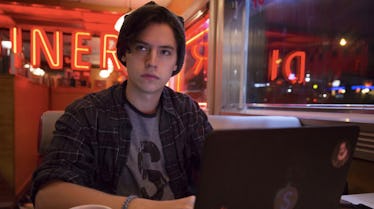 This 'Riverdale' Character Is Not Who He Seems To Be & Our Minds Are Blown
The CW
Earlier this year, before the Season 2 premiere of Riverdale, we were promised some new faces on the show. We were told we'd be meeting Betty's brother, a new South Side Serpent named Toni Topaz, and Veronica's father for the first time, but no one ever mentioned one other new character, Jughead's English teacher at South Side High, Mr. Phillips. Though we've only met him briefly, Mr. Phillips actually plays an important role this season, and, as it turns out, he's not your typical teacher. That being said, fans of the show are asking: Who is Mr. Phillips on Riverdale?
Well, simply put, he's the man behind Riverdale's new drug craze, jingle jangle. That's right, apparently, the wholesome English teacher who helped Jughead get South Side's newspaper back up and running is also the boss behind the town's JJ operation because, well, this is Riverdale, the same show where a seemingly innocent man was ultimately responsible for leading a heroin ring and murdering his own son, and I'd expect nothing less.
After a full episode of wondering who the hell the Sugar Man was, Penelope Blossom revealed his identity to Cheryl, and thank god she did; if we're being honest, my head is already spinning from all the Black Hood theories out there... I think two mystery men terrorizing Riverdale would have put me over the edge.
It shouldn't come as a surprise to anyone that the Mr. Phillips turned out to be the one responsible for Riverdale's jingle jangle problem and the raid on South Side High, though; after all, we have been promised a much darker season multiple times by different cast members and executive producers, and it looks like the show is just delivering on its promises.
Earlier this year in October, ahead of the Riverdale Season 2 premiere, the show's creator and executive producer Roberto Aguirre-Sacasa spoke with Variety about the thrilling nature of the second season; the showrunner said, "It's going to be less of a murder-mystery this season, and more of a suspenseful thriller type of show," before using Archie's journey as a barometer for the darkness of the season. Aguirre-Sacasa continued,
The stakes for more of the characters are going to actually be life and death. Archie [KJ Apa] is a really good barometer for the entire show. Because of what happened with Fred in the finale – because he saw his father get shot in Pop's – he's on a darker journey. He's at the heart of the show and is the show's moral compass in a weird way. By virtue of the fact that Archie is on a darker journey, the show itself is also on a darker journey.
Clearly having a high-school English teacher in a dual role as the town's biggest drug dealer is a part of that "darker journey," and, from the looks of it, the show isn't stopping there. You may have noticed many characters' personalities have been much darker lately, too; Jughead has crossed over to the South Side, Hiram Lodge is definitely up to something sinister, Betty has been working with the Black Hood, and Cheryl is... well, Cheryl is still Cheryl.
In an interview with Teen Vogue, Lili Reinhart (aka Betty Cooper) talked about the mystery of Season 2, and how Betty is affected by the show's "darker journey," as well. The actress said,
It's a new mystery that involves the entire town. Betty herself is a point of interest in the mystery. You're going to see Betty's dark side come out again.
We're already seeing that dark side every time she communicated with the Black Hood, so who knows what other surprises are in store for us this season. At this rate, the Black Hood is gonna turn out to be Jughead for crying out loud.
Check out the entire Gen Why series and other videos on Facebook and the Bustle app across Apple TV, Roku, and Amazon Fire TV.