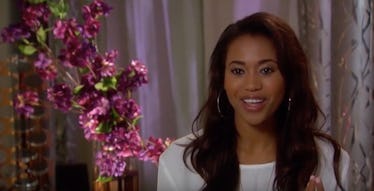 Refresh Your Memory On All Things Jubilee Before Next Week's 'Bachelor In Paradise'
ABC
One of the most exciting elements of Bachelor in Paradise is that it switches things up constantly by adding new contestants weekly. Tuesday's episode introduced a blast-from-the-past standout from Ben's season of The Bachelor. Jubilee, the ex-military stunner has a Paradise past — she appeared in Season 3 — but now she's returned to the Playa Escondida shores to find romance once again. So, just who is Jubilee on Bachelor in Paradise? She's definitely shaking things up already.
Jubilee Sharpe left Ben Higgins' Bachelor season back in 2016 during Week 5 and was eliminated in BIP Season 3 on night one after going on a date with Jared Haibon. She's a war veteran based in Fort Lauderdale who just got out of the military, and as she explained on Tuesday night's Season 5 episode, she's "ready for love." Plus, she's into "smart, nerdy" guys, which bodes well for a certain Software Engineer known by the name of Venmo John. The duo went on an exhilarating jungle zip-lining rendezvous and as John got to know Jubilee, so did Bachelor Nation.
"I was active duty for four and a half years and then I programmed computers and radios and stuff ... systems you've never even probably heard of," she clarified to John on her professional background, dazzling him (and me). She was mutually impressed by John's resume, even asking the Venmo iPhone app programmer: "What are you doing here?"
"When I tell people I'm nerdy I don't think people believe it," she went on, adding that the cello was "her one great love." The more you know!
Jubilee and John's chemistry was off the charts considering their common interests and obvious attraction, despite John's previous connection with Caroline. As John and Jubilee sealed their date with kisses in the jungle, Caroline was shown back at the resort expressing her insecurities about their situation now that Jubilee had entered the picture. Who will get John's rose? Time (and Chris Harrison's dramatically solemn direction) will tell soon enough.
When Jubilee was on Ben's Bachelor season, she and the leading man shared a few memorable moments before her exit. You may recall that she opened up about her tragic backstory surrounding her childhood in Haiti before she was adopted by an American family.
"My whole family died, except for me," she revealed to Ben.
"I told Ben the story of my family, but I left out the biggest part," Sharpe additionally told People. "My three brothers and my parents died, but I don't know the details. I was 6, but I don't remember my parents. My 4-year-old little sister and I went to live with my grandmother but she had leprosy and was dying and too sick to take care of us. So she put me and my little sister in an orphanage."
Jubilee also clashed with some of the women in the mansion, specifically after she asked if anyone wanted to take her helicopter date — a move that rubbed her fellow contestants the wrong way.
Since The Bachelor, Jubilee's been doing her thing in Florida. One glance at her Insta shows that she's been enjoying plenty of bikini-clad fun in the sunshine state. Is she still single? On June 18, she posted a pic with a crypic caption: "Thinking I could spend my whole life getting over you..." Perhaps Jubilee's referring to a special someone from Paradise? Bachelor Nation will have to stay tuned to find out.
Bachelor in Paradise airs Monday and Tuesday nights on AbC.