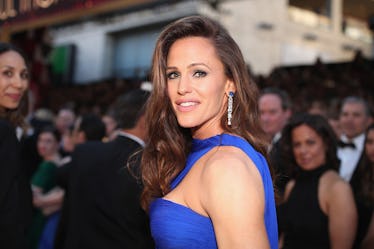 Here's Who Jennifer Garner Is Reportedly Dating After Finalizing Her Divorce From Ben Affleck
Christopher Polk/Getty Images Entertainment/Getty Images
Jennifer Garner is reportedly moving on. The actress and businesswoman, whose divorce from Ben Affleck was recently finalized, has reportedly been dating a man named John Miller for the last six months. So who is John Miller? According to Us Weekly, Miller is the 40-year-old CEO of CaliGroup, who owns a chain of CaliBurger restaurants as well as Miso Robotics. Elite Daily reached out to Garner's team for comment on the reported relationship, but did not hear back by the time of publication.
"They've been together for six months," a source told Us Weekly. "It's getting serious." The source added, "Jen brings out the best in John, and he is the happiest he has probably ever been. It's a loving, healthy relationship."
Another source gave People a contradictory report, however, saying that Garner and Miller's reported relationship is more casual and that he has yet to meet Garner and Affleck's three children, Violet, Seraphina, and Samuel.
Garner and Affleck announced they had decided to end their 10-year marriage in June 2015, then the divorce was finalized in early October 2018 after Affleck completed a stint in rehab. The pair released a joint statement at the time of the announcement about their decision to split that said,
After much thought and careful consideration, we have made the difficult decision to divorce. We go forward with love and friendship for one another and a commitment to co-parenting our children whose privacy we ask to be respected during this difficult time. This will be our only comment on this private, family matter. Thank you for understanding.
After they announced their decision to split, a source told Us Weekly that they had reportedly been trying couples therapy to help their relationship evolve, but nothing stuck. "They were in couples therapy for years," the source told the outlet. "They were going to divorce when Sam was born but you know how it is — baby comes and solves the issues for a bit but it's just a Band-Aid. It hasn't been working for ages." The exes finalized their divorce on Oct. 4, 2018, agreeing on having joint custody of their three children, according to Us Weekly.
People reported shortly after the divorce was finalized that Garner was back on the dating scene and was happy to be moving on. "Jen has been wanting to move on and now when the divorce is finalized, she finally can," the source told the outlet at the time. Based on the new reports from Us Weekly and People, however, she was already dating Miller — either casually or seriously — by the time of that comment. So now let's jump into some more info about John Miller.
His company is known for creating "Flippy," a robot that helps make the food at the CaliBurger locations. Us Weekly also reports that, despite People's claims, Miller has met Garner and Affleck's children. Miller also has a 12-year-old son and 10-year-old daughter from a previous marriage. He, apparently, is technically still married, but he and his wife, concert violinist Caroline Campbell, reportedly started the process of their divorce in 2011 and are just waiting for a judge to sign off on the papers. Whether their romance is casual or serious, it's great to see Garner gettin' that joy!