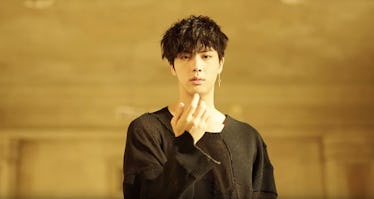 Here's Everything You Need To Know About Jin From BTS, AKA Worldwide Handsome
Little by little, BTS is taking the world by storm. And at the center of this popular K-Pop act is Jin, who's considered the best looking of all the guys involved in the group. Although he gets a lot of attention for his looks (so much so that his nickname is literally Worldwide Handsome), Jin doesn't let it go to his head and there's actually a lot to learn about him. So, who is Jin from BTS? Well, he's the kind of guy who'll sing you a song, cook you a good meal, and tell a decent joke if need be. And there's definitely more info where all that came from.
So, here's everything you need to know about Jin from BTS:
1. Jin is the eldest of the group
Jin, whose full name is Kim Seok Jin, was born on Dec. 4, 1992. At nearly 26-years-old, Jin is the oldest member of BTS, making him somewhat of a paternal figure to the group. And while his age may make you think he's the most mature of the seven members of the group, he's actually quite a jokester. The multi-talented singer is known to tell a good dad joke when the occasion calls for it. Nothing like a guy who can tell a great joke, right?
2. He was discovered while studying to be an actor
In Feb. 2017, Jin graduated with a degree in Art and Acting from South Korea's Konkuk University. It was at that university that he was encouraged to audition for BigHit Entertainment. The audition led him to BTS which was followed by local and international success. But even with all that going on, Jin never lost sight of his acting goals.
Jin graduated from university while maintaining an incredibly busy schedule. His schedule was so busy, in fact, that his fellow BTS members held a graduation ceremony for him. He had a cap and gown and everything:
3. He loves to cook
In addition to being a master at both acting and singing, Jin is also a master in the kitchen. The guy loves to cook and frequently experiments with new recipes. Just a quick look at his cooking diary will tell you that Jin is fearless in the kitchen. He's tried his hand at breads, meats, poultry, and noodles. Every recipe seems to be very different, so he's definitely got a knack for cooking.
4. He plays instruments like a pro
While BTS regularly dances and sings on stage, you can sometimes find Jin taking a seat and playing the guitar. Other times you can find him trying his hand at ukulele. And if you're lucky, you might even catch a glimpse of him at the piano. His musical prowess is out of this world and definitely speaks to how multi-talented he is.
Here's a look at Jin playing a few different instruments:
All in all, Jin from BTS is an incredibly versatile artist. He proves it every time he takes the stage with his fellow BTS members. Not to mention, he seems to have a lot going for him behind the scenes. I mean, he can act, he can cook, he can tell a good joke. And who can forget that he's the one and only Worldwide Handsome? He seems to be a really well-rounded person. How can you not love that about him?