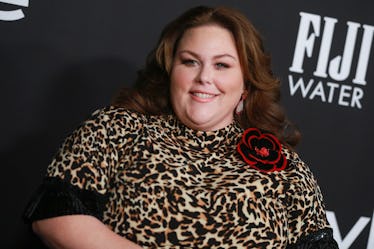 Chrissy Metz From 'This Is Us' May Have A New Boyfriend With An Impressive Job
Rich Fury/Getty Images Entertainment/Getty Images
Chrissy Metz's character Kate Pearson on the hit show This Is Us may be currently going through all the struggles, but in real life, it def seems like the actress is living her best life. According to People, the star just celebrated her 38th birthday in Palm Springs, and she has a new love interest in her life — and I am so not jealous of any of this. So who Is Hal Rosenfeld? Chrissy Metz's rumored boyfriend is apparently a composer, and the two were recently spotted with friends sipping on drinks during Jazz Night at West Hollywood's The Living Room. Because music makes the people come together. Elite Daily reached out to Metz's team for confirmation on the report, but did not hear back by the time of publication.
Anyway, I love #Katoby as much as the next This Is Us fan, but please tell me the fact that Metz is now dating a composer means we will get an album featuring her breathtaking vocals sometime soon. I mean, her voice is just so powerful and amazing. Remember that scene in Season 2 when she sang Stevie Nicks' "Landslide"? Or the time in Season 1 when she belted out the most beautiful cover of Cyndi Lauper's "Time After Time"? I don't know about you guys, but I could watch both of these scenes all day, every day and still cry from all the emotions she brings. Metz has got some serious talent and I would be so here for a full album drop.
And now that I've gotten way off topic, let's get back to the BF. According to Us Weekly, Metz has reportedly been dating Rosenfeld for a few months now. "He is such a sweet guy and everyone around Chrissy really likes him," a source told the publication. "He adores her and she is really into him as well."
Rosenfeld was even there when Metz celebrated her 38th birthday back in early October at the La Quinto Resort in Palm Springs. That's him right there to the left of Metz in this picture she posted on Instagram:
So sweet, right?
Wanna see a close-up pic of Rosenfeld with a puppy? Well, duh, of course you do, so here you go:
You're welcome. And did I mention that he also plays the drums?
So much talent between these two. I just really, really, wanna hang around the house with them for a few hours because you know they will just be dropping beats and bursting into song whenever they, like, run out of milk or coffee or whatever, and that is the kind of relationship I definitely need in my life.
Plus, Rosenfeld is 13 years younger than Metz — he's 25, y'all! — and it looks like he is a fan of those weird, frosted, sugar cookies they sell in the grocery store that people either love or hate, and that I personally consider to be God's gift to cookies.
So yeah, if you couldn't tell, I totally ship this pairing. And I'm calling it now — their nickname is #Chrisal. I mean, it's better than #Halissy, and it totally sounds like a type of champagne.