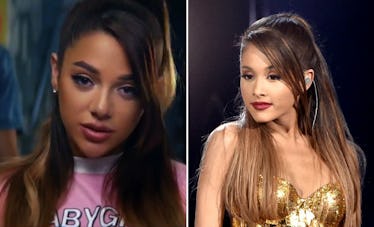 The Ariana Grande Lookalike In The "Thank You, Next" Video Is A YouTuber You Should Be Watching
YouTube; Kevin Winter/Getty Images
Ariana Grande is really hyping up the video for her new single "Thank U, Next" and part of that hype has involved casting someone who looks almost exactly like her. In a preview for the "Thank U, Next" video, fans were treated to an homage to all the teen rom-com flicks that made the 2000s so much fun. And that homage included Grande's lookalike Gabi DeMartino in a role that's yet to be fully revealed but seems to be intended to poke a little fun at herself. In any case, the striking similarities between the two have fans asking one important question: who is Gabi DeMartino?
DeMartino is actually a popular YouTube star who has often been compared to Grande for her preference for high ponytails and Grande-esque fashion. She and her twin sister Niki have a YouTube channel where they talk about everything from fashion to relationships. In their channel's description, the twins share what makes them interesting.
"It's Niki and Gabi! Aka the opposite twins:)," the description reads. "We're twins, but we're polar opposite in our looks, fashion, and personalities. Even though we're 'twins,' we're our own individuals."
DeMartino also has her own YouTube channel separate from her sister and there, she shares bits and pieces of her life, which has glammed up quite a lot over the years. In one video, she coaches her viewers on "how to look expensive for cheap" and even gives you a glimpse of her own extensive wardrobe (including lots and lots of shoes).
After checking out some of her videos, it's hard to deny that she looks like Grande's long lost sister. I mean, how else would she look more like Ariana Grande than Ariana Grande in this teaser photo from the "Thank U, Next" video:
And she definitely banks on that as much as possible. In one of video entitled "i lived like ariana grande for a day parody", she does everything she thinks Grande might do during her day. She even goes as far as to get a clip-on ponytail to emulate Grande's signature hairstyle. It's pretty funny.
According to Newsweek, DeMartino has gotten some flack for "copying" Grande's look and even addressed it on social media.
"I love Ariana and I am a fan, but I also play a role. please respect and if you are not a supporter of that please unfollow," DeMartino wrote. "I [also] resemble her a lot and some of you guys can't move passed [sic] that. So, if this bothers you, please kindly unfollow as well. I can't help that I am 5 feet like her, and Italian with similar features...I am an artist as well, and our music and sound couldn't be more different."
All that said, it's easy to see why Grande would cast her in the music video for "Thank U, Next" and have her basically be a carbon copy of herself.
Take a look at the preview for the "Thank U, Next" music video down below:
DeMartino's cameo in the video even pokes a bit of fun at her resemblance to Grande using a really clever reference to Mean Girls.
"Ariana says, 'Honest to God, knock me out.' So, I decided to punch myself in the face," Demartino's character says in the video. "It was awesome."
If all that is anything to go by, then I think it's safe to assume that the video for "Thank U, Next" is going to be amazing!