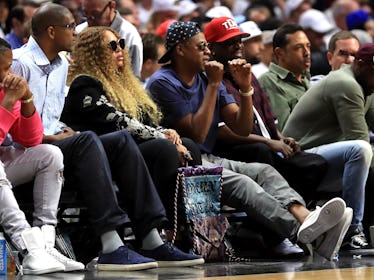 JAY-Z & Beyoncé Got Real About Their Close Circle On This New Track
Sean M. Haffey/Getty Images Sport/Getty Images
As I'm sure you know by now, on Saturday, June 16, JAY-Z and Beyoncé dropped a surprise joint album, Everything Is Love. With the album out, naturally, fans have been pouring over the lyrics to see what we can learn about the elusive couple's relationship. One song in particular touches on all kinds of relationships, and the Everything Is Love song "Friends" is all about what certain relationships mean to the couple, and to JAY in particular.
On the song "Friends," JAY-Z takes over most of the emotional labor. Bey sings the chorus, refrain, and two verses, but those verses are quite a bit more ambiguous than JAY-Z's section of the song, which gets really deep into his own friendships, separate from the marriage itself.
With that in mind, I'll start with Beyoncé's parts in the song. First, she sings the chorus, which is about "real friends" and how all their friends are rich like them. Cool! The "real friends" bit also could be a reference to Kanye West's song "Real Friends," which is also about the trials and tribulations of having friends as a rich and famous person. The refrain Bey sings is lyrically simple, just saying that friends "pull me up" and "never let me down." Friends!
"I don't know what I would do without all of my crew, yeah I ain't making no room, yeah, I ain't making no new friends," Beyoncé says in the first verse (and there, possibly a reference to DJ Khaled's "No New Friends," which features Drake, Rick Ross, and Lil Wayne). The rest of the verse follows that theme: I have close friends, not looking to make new ones, and I love them and they're great. She also sings the last verse, which follows a similar theme: I have friends and they support me and also play my music; normal friend things.
JAY only raps one verse, but it's a loaded one, and that's where the real drama comes in.
Now, in this verse JAY does namedrop a few people, but if you're looking for explicit chat about some of his more famous friends, I'm sorry, you're not going to find it here. JAY-Z is not out here talking explicitly about Kanye or anything like that— he's not Pusha T with a beef. Of course, that has not stopped people on the internet from stretching to believe that the song discusses Kanye, but outside of that potential "real friends" reference, there is nothing that explicitly links the song to being about Kanye West. Sorry, Ye, I know you'd have loved the attention.
JAY-Z starts his verse by saying he's all in on his friends, except that, "Every week, ya got bros, all of y'all fake close / Y'all switching sides like NBA teams just after halftime." So: some friends suck.
"I'm pullin' up on my dog, make sure he okay, I don't even have time / He copped me a Porsche with butterscotch seats," JAY raps, showing the various extents of friendship (checking in on your friends; feeling like you don't have enough time to be a good friend; friends getting you Porsches — regular things).
"Live better than rappers and they don't even have deals, that real," JAY starts, which may be a reference to his history with drug dealing and friends who dealt. You get a good idea of that with the next line: "Bought Emory a BM as soon as he came home."
Emory, if you don't know, is Emory Jones, JAY-Z's friend from way back in the pre-fame Brooklyn days. In 2000, Jones was sentenced to 16 years in jail for trafficking cocaine, which he pleaded guilty to, per The Daily Beast. JAY wrote in his autobiography that he was a street dealer for Jones in Maryland, and, per The Daily Beast, JAY wrote a letter to a federal judge to help get his sentencing reduced, saying that he would employ him. Sure enough, Jones got out early in 2010, and JAY-Z gave him a job at Roc Nation Apparel — and, per these lyrics, JAY also got him a BMW. This is far from the first time JAY has rapped about Jones: the song "Do U Wanna Ride?" is all about him, to start.
In the next line, we get the next explicit names. JAY raps,
Ty mama died, I was there, my nephew died, he was there / He in my house more than I be there, more than B there / Ty-Ty there, E there, Breezy there, Juan there / High here, Chaka there, Law there, they all here, ah yeah / Dez there, Kawanna here, sh*t feel like nirvana here
So clearly, talking about all his friends who are there for him like he's there for them. The friends listed here include: Tyran "Ty Ty" Smith (old friend and cofounder of Roc Nation), Jay Brown ("Breezy," the CEO of Roc Nation) and his wife Kawanna, Juan Perez (old friend and president of Roc Nation Sports), Briant 'Bee-High' Biggs (his cousin), Lawrence "Law" Parker III (friend, also part of Roc Nation), and Chaka Pilgrim (president of Roc Nation). Honestly, seems like it pays nicely with a Roc Nation job to be a good friend of JAY's.
The one more mainstream famous namedrop JAY-Z makes on "Friends" is for Meek Mill, the rapper who was released from prison in April this year following a highly-criticized sentencing for violating probation. JAY raps,
When I say free the dogs, I free 'em / That's how Meek got his freedom / Y'all put n*ggas on a t-shirt, it hurts you ain't never meet 'em / You got n*ggas in the feds, you ain't even tryna feed 'em / I'm tryna free the world, that's how deep I'm in
So here, references to the public campaign to get Meek out of prison (which included t-shirts with his face/name), and talk about how JAY's realer than all of us when it comes to being a friend and getting people out of jail.
And then, finally, we get the couplet that's got everyone thinking of Kanye:
I ain't going to nobody nothing when me and my wife beefing / I don't care if the house on fire, I'm dying, n*gga, I ain't leaving
JAY and Bey famously did not attend Kanye's wedding to Kim Kardashian, which made Kanye famously sad. Many thought it indicated something about JAY's relationship to Kanye, but many people are interpreting this lyric as an alternate explanation: JAY was working on his marriage instead. Again, though, it's an ambiguous line that could really be about skipping any event.
Still, if there's one thing I've learned, it's that I'm really, really jealous I'm not friends with this couple.