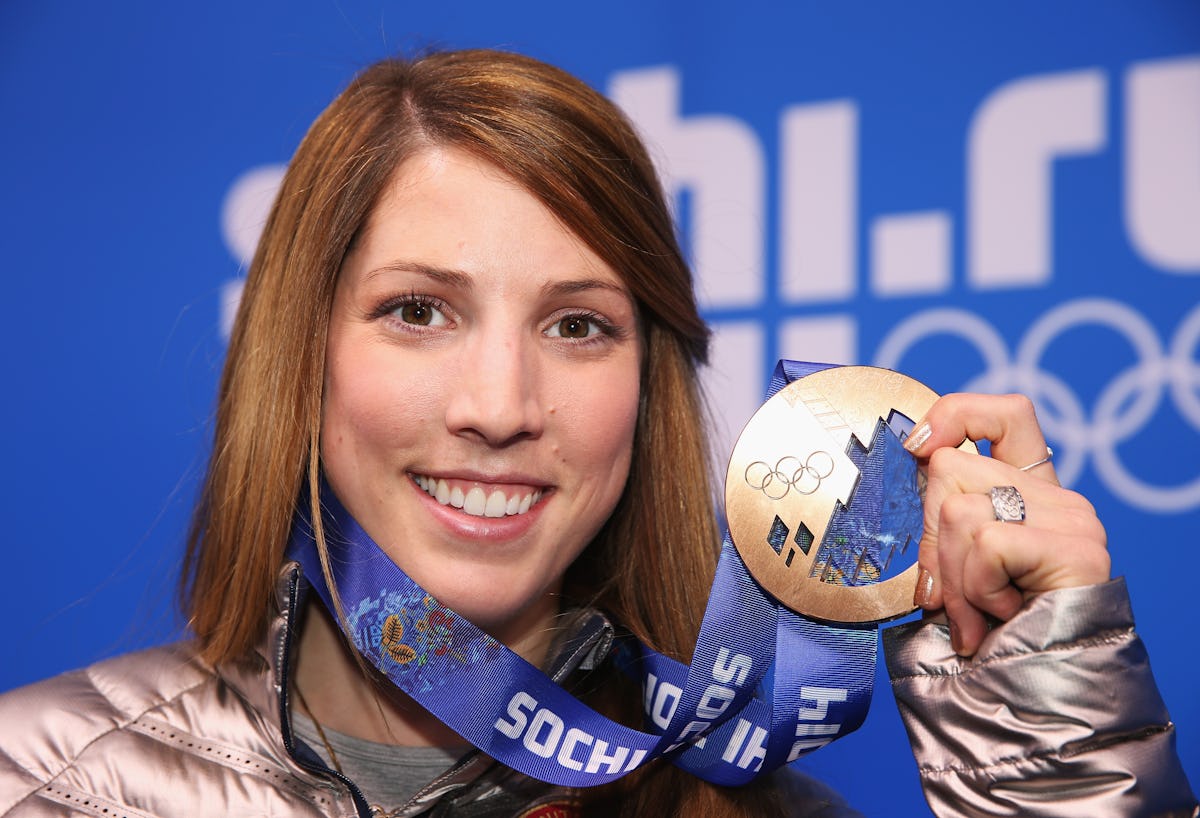 Team USA Flag Bearer Erin Hamlin Is A History-Maker In Her Sport
Robert Cianflone/Getty Images Sport/Getty Images
Over 200 athletes will represent Team USA at the 2018 Winter Olympics, but only one of them has the honor of carrying the American flag during the opening ceremony. That honor now belongs to 31-year-old Erin Hamlin, who was named Team USA's flag bearer on Thursday, Feb. 8. Hamlin, who has represented the United States at three previous Winter Olympics, will now lead Team USA during the opening ceremony's Parade of Nations at PyeongChang Olympic Stadium on Friday, Feb 9.
"It was a pretty big shock," Hamlin told NBC's Mike Tirico in South Korea, the site of the Winter Games, "but it is an honor and a privilege to be recognized by all of Team USA."
Hamlin is a singles competitor in luge, the downhill competition that sees the most skilled athletes steer their sleds at speeds over 100 mph on an icy track. In 2014, Hamlin won a bronze medal at the Sochi Winter Olympics in Russia, her first Olympic medal. That milestone also made her the first American ever to medal in singles luge at the Olympics.
Hamlin also made history on home soil, at the 2009 World Luge Championships in Lake Placid, New York. There, she became the first American woman to become a world champion in luge.
"Being named to an Olympic Team is an amazing accomplishment, and making four teams and winning the bronze medal is so much more than I could I have imagined I would accomplish. Now being voted flag bearer is a whole new level," Hamlin said in a statement released by the U.S. Olympic Committee. "Working hard and earning success is one thing, being acknowledged as a great representative and member of Team USA by fellow athletes — many who I have been inspired by — is above and beyond anything I've experienced. It is definitely a privilege and honor to be the one to lead the team and will be a very special moment. I can't wait to share it with them all!"
Hamlin's selection as flag bearer did not come without a bit of controversy, though. After the 31-year-old Olympian was confirmed as flag bearer, American speed skater Shani Davis sounded off on Twitter.
"I am an American and when I won the 1000m in 2010 I became the first American to 2-peat in that event," Davis wrote. "@TeamUSA dishonorably tossed a coin to decide its 2018 flag bearer. No problem. I can wait until 2022. #BlackHistoryMonth2018#PyeongChang2018"
Davis was a finalist to become a flag bearer at the Winter Olympics. Flag bearers are selected via a vote from the eight American winter sports federations that are represented at the Olympics. Hamlin and Davis were tied at four votes each, per The Los Angles Times, so the flag bearer was selected via coin toss.
Davis is a 35-year-old veteran of four Winter Olympic games, having made his debut at the 2002 Olympics in Salt Lake City, Utah. He has four Olympic medals to his name, among them the two gold medals which he won in back-to-back Olympics in the 1,000-meter speed skating competition. He also won back-to-back silver medals in the 1,000-meter event.
Davis has qualified for both events at the 2018 Olympics, which means he'll get a chance to "three-peat" in the 1,000-meter race in PyeongChang, despite his self-described dip in form in recent years.
"I was happy to qualify since the competition was very tight," Davis wrote in a blog on Team USA's official website. "If I skated like I did earlier in the year, there was a great possibility that I wouldn't qualify for anything and I'd be stuck back home watching others competing and wishing I was them."
Meanwhile, Hamlin will be looking to improve on her 2014 result and win gold in PyeongChang, which would mean another highlight at the Winter Olympics, to pair with her leading Team USA as flag bearer.
To learn more, visit teamusa.org. The Winter Olympics will air live, starting Feb. 8.