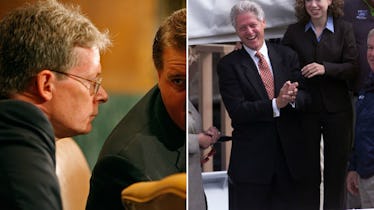 President Trump Is Reportedly Hiring Bill Clinton's Impeachment Lawyer, So That's Nice
Chip Somodevilla/Phil Walter/Getty Images
Ty Cobb, the White House special counsel, reportedly told President Donald Trump that he plans to retire at the end of May, according to published reports. You might need to do a double-take on who Trump is reportedly considering as Cobb's reported replacement, because it's pretty unexpected. Emmet Flood, the reported incoming White House lawyer represented President Bill Clinton during his impeachment.
The New York Times, citing unnamed White House sources, reported that Flood, a partner at Williams & Connolly, had not been confirmed as the next appointee and that the president often changes his mind about staff changes based on media reports, but Flood has been talked about as early as 2017 to spearhead Trump's legal team. Flood was part of a team of lawyers who represented Clinton in his December 1998 impeachment proceedings, per a biography posted to his firm's website. The Times characterized it as not being a "high-profile" role.
Flood represents "individuals, corporations and professional services firms in complex white-collar matters," according to Williams & Connolly's website. He also has ties to President George W. Bush, having spent two years in the White House counsel's office.
Cobb confirmed his plans to retire to The New York Times in a phone interview on Wednesday, May 2. His role as special counsel to the president was to manage matters related to the ongoing investigations into Russian election interference. Cobb was appointed by Trump in July 2017, and he has become an often-quoted resource throughout the Department of Justice's (DOJ) Russia probe over the last several months.
"It has been an honor to serve the country in this capacity at the White House," Cobb said. "I wish everybody well moving forward."
As has become something of a pattern, President Trump repeatedly insisted that earlier reports of Flood's hiring — and Cobb's exit — were false, only for the purported falsehoods to be proven true weeks later. He lashed out at New York Times reporter Maggie Haberman on Twitter in March, when she first reported about the possible switch.
As recently as April, Trump solidified his public stance that Cobb would be sticking around to advise the president through the Russia investigation. "I have agreed with the historically cooperative, disciplined approach that we have engaged in with Robert Mueller (Unlike the Clintons!)," Trump tweeted on April 12. "I have full confidence in Ty Cobb, my Special Counsel, and have been fully advised throughout each phase of this process." It's unclear what "unlike the Clintons" was referring to.
Flood reportedly met with President Trump in March, after also meeting with him last summer, per The Times. Citing two people close to the president, The Times reported that consideration of Flood was not because of any new concerns about the DOJ investigation.
Haberman, interestingly, has covered Trump ever since his glory days as a real estate developer in New York City. As such, she has an incredible amount of insight into Trump's decision-making. Haberman was a guest on Late Night with Seth Meyers in February, and she talked about Trump's fascination with manipulating news coverage via his Twitter account.
"I had an ex-aide say to me at one point that [Trump] can't go more than a few days without seeing his name in the news," Haberman said. She added that he particularly enjoys watching TV news, tweeting, and then watching the news change. "He loves that cause and effect," she said.
The Russia probe is certainly a favorite topic of Trump's tweetstorms — and is something his lawyers have reportedly tried to get Trump to keep quiet about. In March, Trump's lead lawyer for the special counsel investigation, John Dowd, resigned from his position. The news came as reports surfaced that Dowd had urged Trump not to sit down with the Mueller team, and Trump signaled that he wanted to anyway, per The Times.
Despite Trump's Twitter pleas, it doesn't appear that the investigation will be wrapping up quite so soon. CNN reported that on Tuesday, May 1, Mueller's team asked for a two-month delay in sentencing for former national security adviser Michael Flynn, who pleaded guilty to lying to the FBI.
That means that there's probably weeks and months ahead of more DOJ excitement, regardless of Flood's hiring. Lucky us, America.