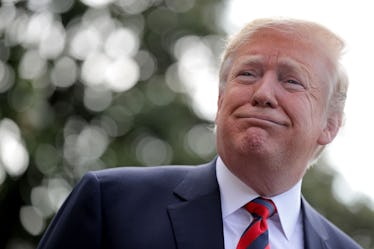 Donald Trump's Official Photographer Has A Style & It Makes A Lot Of Sense
Chip Somodevilla/Getty Images News/Getty Images
A picture speaks a thousand words, and when that picture's coming out of the White House it had better be the right ones. Everyone adored President Barack Obama's official photographer, Pete Souza, and even though the Obama era is long gone, we're still constantly stalking his feeds. But who is Donald Trump's official photographer? She's the person who has a front-row view of everything that happens in the White House... usually.
Meet Shealah Craighead, Trump's official White House photographer who has a close-up view to one of the most non-traditional and controversial administrations in history, and she's in charge of how the world sees a good chunk of it. Craighead is no stranger to political photography. According to Marie Claire, she was the official photographer for Laura Bush during President George W. Bush's administration, and the campaign photographer for Sarah Palin. Her impressive resume led former Press Secretary Sean Spicer to hire her just before the 2017 inauguration, according to Marie Claire.
Trump's run up to the White House was not what you'd call normal, and his newfound political career has been a point of contention since day one. But Craighead didn't think twice about working for such a tumultuous White House. During a January 2018 interview, Craighead told Marie Claire that taking the job in Trump's White House was a pretty easy decision. She knew that he's a "polarizing" figure but she admires the way he's "true to himself." She said,
It was absolutely an opportunity I knew I wanted to take. He has a dynamic personality — and very polarizing. What I admire about him is he doesn't waiver on speaking his mind. He's going to speak the truth from his heart, and that's going to be received how it's going to be received. He's true to himself and I admire that in a person —especially in somebody I'm photographing.
Though deciding to work for Trump can seem controversial, I think the decision is made even easier when you have the opportunity to be only the second female photographer in the history of the White House. (The first was Sharon Farmer, the director of White House photography under Bill Clinton.) Craighead feels honored, either way. She says it's an accomplishment to be one of the handful of people who've held the title of "official White House photographer." Craigheld told Marie Claire,
I'm very honored to be in this spot, that's for certain. I think that anybody — male or female — in this position, it's a real honor. Sharon brought great strength to the role. I'm coming in, as well, with experience and knowledge from a previous administration and I'm able to build on that strength. It's a pretty special position to be in — there's a small group that have held the position of a chief photographer and I'm just honored to be a part of their team and a part of their history.
While Craighead might get the honor of joining the ranks of the likes of Farmer and Souza, she's clearly got her own style when it comes to documenting this presidency.
If you check out the official White House Instagram account, a lot of the photos seem to be on the formal side. There are shots of Trump speaking to an audience, signing documents, or welcoming foreign leaders with a firm handshake — but not too much in the way of intimate, personal shots. It's all very much about the grandeur and spectacle of the presidency, rather than the personal moments. But it makes sense for a president who's known for his sense of showmanship and drama.
But compare that to the work of Obama's photographer, Pete Souza. Currently, Souza is popular because of his occasional trolling of Trump on Instagram. But, before Souza took it upon himself to find clever ways of shading the president, he became a household name for capturing the essence of Obama and his White House.
With just a quick glance at the Obama-era posts, in between the usual presidential photo ops and meet-and-greets, there's a lot of intimate portraits. Shots of Obama deep in thought, or kissing Michelle Obama, or sharing glances between himself and Vice President Joe Biden. The photos are emotional and reflect a close-up view of the president.
Here's one of my favorites of Obama trying to make a friendship bracelet for Biden:
Also, this one of some Oval Office crawling:
Trump's feed just doesn't feel the same. Could it be that the former reality television star is a little camera shy? Well — let's just say that I'm going to chalk this up to professional style.