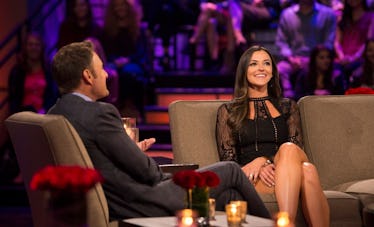 Tia Booth Reportedly Has A New Boyfriend, So She's Definitely Over Colton
ABC/PAUL HEBERT
Has Tia Booth moved on from Colton Underwood? Well, if a photo actually is worth a thousand words, then her latest Instagram photo might be a huge clue that she's found love again! On Monday, Nov. 12, Booth posted a photo of herself and a mystery man on Instagram. And thanks to an insider source for E! News, it's been revealed that the man at Booth's side is Cory Cooper. So, who is Cory Cooper? And how long have he and Booth reportedly been an item?
According to E! News, Cooper is the Executive Vice President of Cooper Steel, his family's steel company. Apparently, the company was founded in Tennessee by Cooper's father and grandfather over 50 years ago. So, he's a super successful guy. As for a relationship between him and Booth, that's yet to be confirmed. E! News, however, reports that Cooper is Booth's new main squeeze. Elite Daily reached out to Booth's reps for comment on the report, but did not hear back by the time of publication.
In any case, a source close to the situation told E! News that Booth is super happy with her new guy. She's also reportedly been traveling from her home state of Arkansas all the way to Tennessee just to see him!
"Tia is dating Cory Cooper. She has been traveling back and forth to Nashville recently within the past month to visit him and they are very happy," the source revealed.
As cozy as all that sounds, the source added that the relationship is still new, but "going really well."
So, that seems promising! And that's great for Booth, who had a really tough time while appearing on Bachelor in Paradise this summer. Just to recap: Booth basically went to paradise for Colton Underwood, but he seemed intent on exploring other options. When the two finally came together, the relationship looked as though it would really take off. But it eventually fell flat, seemingly out of nowhere, and the two decided to call it quits and go home.
Now that paradise is in the past, it seems like Booth is ready and willing to move on. She's a romantic at heart and is trying to find the right guy to suit her needs. As of right now, Cooper is looking like a great fit for Booth, who's a physical therapist and is willing to go to great lengths to ensure her relationships thrive.
For example, traveling from Arkansas to Tennessee is really no big deal for her. E! News' source revealed that "distance hasn't been an issue and they have been making a huge effort in seeing each other."
Although the relationship is just starting to develop, the feelings are reportedly mutual.
"Tia really likes Corey, and they are enjoying getting to know each other right now," the sourced added.
So, they both really seem to like each other. I'm sure everyone who's followed Booth's story on Bachelor in Paradise is wishing her all the best in this new relationship. I know I am! I'm crossing my fingers that everything works out for her this time.