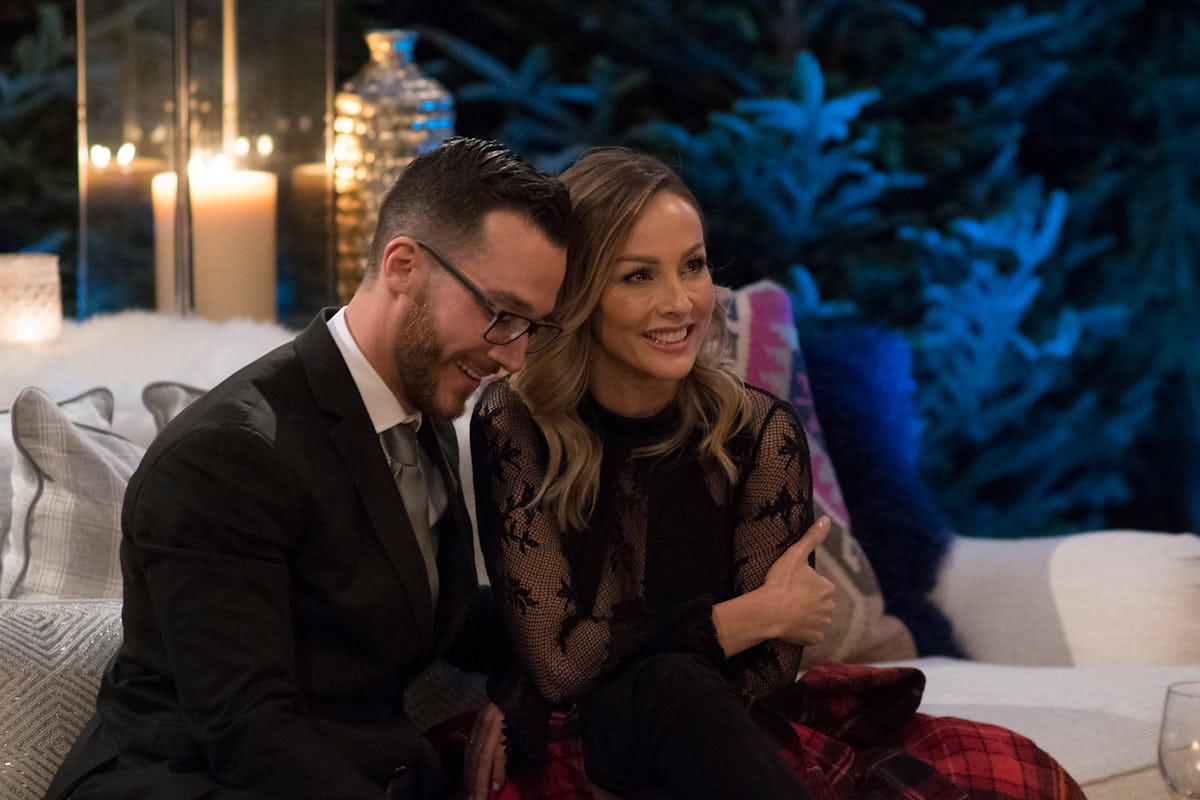 Here's What We Know About Clare's Love Life After 'Bachelor Winter Games'
ABC
Love triangles abound in Manchester, Vermont! We're only in episode two of Winter Games, and Clare Crawley has two guys from two different countries after her American heart. In one corner: Christian from Germany. In the other: Canadian Benoit. Who is Clare dating after Bachelor Winter Games? The Bachelor alum won the attention of more than just one contestant on Thursday's episode, and they were competing in more just speed skating.
"I'm kind of in a little bit of a love triangle between Benoit and Christian. They're both amazing guys," Clare stated at the start of the show's second episode. "Benoit is so dang nice," she added. "That date card would be hard to have."
Clare broke the getting-to-know-you ice (sorry, we can't help it with the wintery references over here) with both Benoit and Christian in last week's premiere. She admitted that Christian was totally cute and they got some quality time, but she also shared a flirty cooking session with Benoit. You know what they say... There's nothing more romantic than laughing with raw turkey!
Luckily for Clare, she didn't get that date card she dreaded. But that didn't stop her from making her own date. Clare proceeded to set up a jacuzzi sesh with Christian, because why not? They technically live together. This isn't The Bachelor and these participants are making their own dang dating rules.
Well, it appears something got lost in translation between Clare and Christian. Allow us to recap The Jacuzzi Incident of 2018. "We have an appointment for the jacuzzi," an impatient Christian remarked, while waiting for his plans to come to life. While he was left twiddling his thumbs, Clare engaged in some bathtub girl chat with Lesley seemingly standing him up, even though the jacuzzi was full.
In the meantime, Benoit had his own issues with Clare's status. And things got real. Poor guy didn't know what was going on with her because he thought they made a connection, so he asked her where her heart was at. "For me, a kiss with me is more than some friendship stuff," he said tearfully. Unfortunately, she didn't really feel the same way. Benoit then launched into a sad soliloquy about his strong feelings (he later said "I love you"), declaring that he was going to go home. And that he did. It's safe to say these two are not currently dating, yes?
Aaaaand back to Christian, who confronted her about the ridiculous jacuzzi ordeal, proceeding to hurl an onslaught of criticism her way about her actions. This resulted in her breaking down, completely "pissed." Man, this show is exhausting.
It's no surprise that Clare called Christian out. The 36-year-old is known for using her trusty BS meter — she notably spoke out when Juan Pablo rejected her on his season, walking off confidently, but not with out giving him a piece of her mind. "I thought I knew what kind of man you were. What you just made me go through, I would never want my children having a father like you." You tell 'em, lady.
Christian and Clare finally got some time to discuss the inane misunderstanding-turned-blow-up, but that only took things to a fever pitch. The two of them continued to argue until she realized she was over him. BUT NOT FOR LONG. At the rose ceremony, she went ahead and pulled a shocker of a move when she accepted his rose after all that. Now we're even more confused.
Clare posted a cryptic Instagram prior to the airing of Winter Games that read, "you take the goddamn risk, regardless of how it turns out." Perhaps that's a hint that this all didn't work exactly the way she planned. Or maybe Clare and Christian will see eye to eye next week and work it out? She certainly does not need Juan Pablo 2.0 in her life.