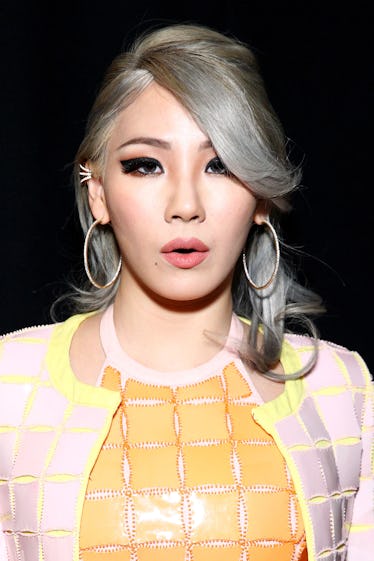 3 Things To Know About CL Before She Slays The Olympics Closing Ceremony
Astrid Stawiarz/Getty Images Entertainment/Getty Images
Don't cry because it's over, smile because you got to see incredible athletes perform record-breaking events while you sat on your couch drinking wine and eating potato chips. That's right, you guys: The Pyeongchang 2018 Olympic Games' closing ceremony is upon us. But before you get super sad, you should actually get a little bit excited, because it's going to be quite the show. Many people are wondering which artists will be performing at the 2018 Olympics closing ceremony on Sunday, Feb. 25, and we were made aware of a few already. The performances will be focused on South Korea's pop music scene (known as K-pop) and will feature pop star CL and boy band EXO. So, who is CL? Who are the members of EXO? And just how much should we be looking forward to their performance?
Answer: we should be getting AMPED right about now.
Let me tell you just a few things about these awesome performers to help you start feeling just as pumped as I am.
1. She used to be the lead rapper of a popular K-pop group.
According to Hollywood Life, CL (born Lee Chae-rin) was the "lead rapper of the now-disbanded 2NE1," which formed in 2009 and split in 2016. And, while she grew up living in both Japan and France, she reportedly now resides in Los Angeles, California, and has worked with American artists like Skrillex, Diplo, and Lil Yachty. Though her audience is heavy with fans of K-pop, CL is paving her way to American followers, too. She's co-managed by YG and Scooter Braun (the guy who brought us Justin Bieber), and is currently working on her very first solo album.
In an interview with Fader, CL talks about the difference between working in Korea as an artist versus working in the United States. She said,
Back in Korea, I'm always in the studio with YG people ... I'd be given a song, and I'd cut it. But here, I write completely by myself. The last time I recorded at the house, I just invited my friends over to feel a little more natural. I'm feeling artistic.
Whatever it is she's doing, it seems to be working. I mean, she was chosen to perform at the Olympics closing ceremony, which doesn't seem like an easy gig to get.
2. CL is a total fashionista.
According to Forbes, CL is "one of the most iconic Korean female rappers and fashion icons ... and is an artistic muse of Moschino creative director Jeremy Scott."
From the looks of her social media, she's totally living her best life. Oh, and her sense of fashion will make you want to hire her to help you buy an entirely new wardrobe:
Told ya.
3. CL is a natural-born singer and performer.
Some people just get lucky when it comes to their talents, and CL is one of them. She credits her dad for her getting her interested in music and the art of performing. In an interview with #Legend, CL talks about how her childhood helped shaped her into the performer she is today. She said,
It was natural for me because my dad loves music. I grew up listening to a lot of music and you know, I was singing all the time and one day I asked him if I could learn how to dance. I remember I was seven, that's how I got into dancing. And everything was natural, you know. I grew up with it.
It's basically like she was born to perform at the closing ceremony.
I don't know about you, but I can't wait to watch her perform at the Olympics closing ceremony (and I also can't wait to see what she wears, because CL is my new fashion spirit animal.)
Who are EXO?
While you may not have heard of them, EXO, a boy band comprised of 9 members, is ridiculously popular. According to Dazed, "their fandom, known as EXO-L or Eris, have propelled the group to sell over 14 million singles and 6 million albums, and their latest and third full-length, EX'ACT, topped the charts after breaking pre-order records set by their second, EXODUS."
So, yeah, one could say that they are one of South Korean's biggest modern-day musical influences.
One more way EXO threads its way into the Olympic narrative? According to Forbes, Russian gold and silver medalist figure skater Evgenia Medvedeva is an EXO-L, meaning Medvedeva is a hardcore fan of the group.
While there are ways to follow the members individually on social media, they also have a group Instagram account where they post fun, behind-the-scene photos as well as shots taken by professionals where they all look fly AF.
To make a long story very, very, short: This Insta-worthy group is going to crush it at the Olympics closing ceremony, and I can't wait.
There has also been talks of a third ~mystery~ K-pop performer to appear at the closing ceremony, so when you sit down to watch it all unfold, keep your eyes peeled for a possible special guest.
Thank you to the 2018 Winter Olympics, because you are the gift that seriously keeps on giving.