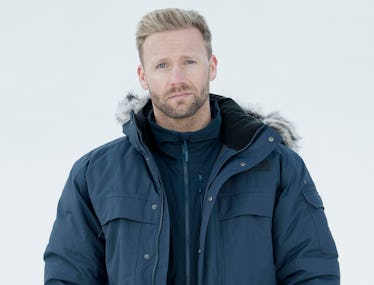 You'll Want To Know All About This German Hunk Before Watching 'Bachelor Winter Games'
The most exciting thing about the upcoming Bachelor Winter Games series is the addition of foreign members of the Bachelor franchise. I can only take the same old cast members hitting each other up on Instagram before embarking on Bachelor in Paradise so many times. Joining this cast of fresh faces is German contestant Christian Rauch, who previously appeared on Die Bachelorette, his country's version of The Bachelorette, Christian on Bachelor Winter Games may easily become my pick for who I'd like to rescue me from an expedition in the Alps, but there's good reason to believe that he'll be one of the show's charmers.
Seemingly representing both Switzerland and Germany based on his cast info, the 34-year-old first appeared on Season 1 of Die Bachelorette in 2014 as a potential suitor for Swiss star Frieda Hodel. According to the show's website, Frieda was a 32-year-old entrepreneur and model who fell for then-32-year-old Christian by the end of the season. In his own cast bio, Christian was revealed to be a resident of Berlin and a personal trainer when he wasn't working in an airport. The site also provided a video of his best moments with Frieda, which basically just consisted of them making out in intimate locations. It sounds like he'll fit in fine with the American cast.
Plus, if you thought Christian's Bachelor Winter Games photo was hot, you should check out his Bachelorette cast picture. Are the guys allowed to wear suits on Winter Games?
The relationship between Christian and Frieda obviously didn't last, and international fans have helped others find Christian's Instagram, which is extra proof that he was evidently single leading up to the filming of Winter Games.
With a modest several hundred likes per photo, Christian also appears to be very interactive with fans in photo comments. After posting his Bachelor Winter Games photo, he answered fans' questions about where it was filmed and how German viewers could watch the episodes. Coming from a country where Bachelor cast members' fan interaction is limited to telling followers all about SugarBearHair, I actually find it very endearing that he was so responsive to his supporters.
It seems that Christian is also rarely at home, having posted a collage of all the places he traveled to in 2017. Clearly being discreet about what the snowy U.S. location in the grid was (we now know the Games filmed in Vermont), he also explored L.A. and Miami while traveling the United States.
Christian notably usually appears in Instagram photos by himself, which either A) says that he's independent or B) has taken a Peter Kraus-like approach and has soaked up all the benefits of post-Bachelorette life (Have I mentioned that following Peter's journey after the show has been one of my life's greatest disappointments lately?). Christian also has experience as a model, which is always a profession you have to be wary of when it comes to finding genuine people in this franchise.
Although there is a photo of Christian at Winter Games' opening parade, proving that he was there from the season's beginning, Bustle has pointed out that his cast photo looks pretty different from the other competitors. While the other men appear in front of beige backgrounds in thin-looking jackets, Christian's cast photo is of him with a white background, almost as if he's taking the photo in a snowy area outside.
He's also wearing a heavy parka, suggesting that he had to take the photo separately from the rest of the cast. The difference likely isn't a big deal and, if anything, working out contestants' visas may have delayed Christian's arrival in the States. In a recent New York Times piece, franchise creator Mike Fleiss explained that President Donald Trump's administration prevented more foreign contestants from joining the Games:
But securing overseas talent proved difficult. News out of Washington strained the producers' visa negotiations with other countries. 'Our president didn't make things any easier,' Mr. Fleiss said.
I'm digging these strong and silent vibes from Christian, and it'll be interesting to see if he becomes a hot commodity among the women.
The Bachelor Winter Games premieres on Tuesday, Feb. 13, at 8 p.m. ET on ABC.