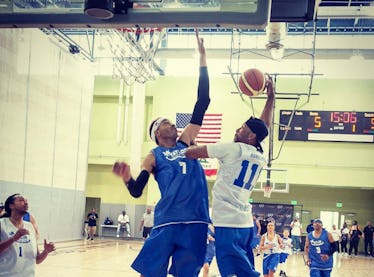 This 'Bachelorette' Contestant Is A Slam Dunk, In More Ways Than One
Instagram/Chris Staples
The Bachelorette is no stranger to contestants who are former athletes, but Season 14 competitor Chris Staples is a different kind of addition to that select group. The 31-year-old is a professional basketball dunker – if Rachel Lindsay hadn't had a basketball Bachelorette group date last year, I think Chris would've swept away the inevitable hoops competition this season. The former Harlem Globetrotter has previously tried his luck as an actor in Hollywood, but now it seems that he's trying to take a shot at love with new leading lady Becca Kufrin. So, who is Chris S. on The Bachelorette?
The dunking machine is originally from Saginaw, Michigan, which clearly emphasizes the casting team's efforts to score a crop of good Midwestern boys for Becca. According to a 2017 Michigan Live piece detailing his visit to a local high school, Chris played shooting guard on his high school basketball team for three years before participating in football and track senior year. After struggling at both Wayne State University and Eastern Michigan University, he signed on with the Globetrotters, an exhibition basketball team, in 2012. Officially debuting with the team in 2013, he played until 2016, when the opportunity to star in a movie came along. Speaking to HoopsHype, he explained the casting process:
Actually the director Timothy Chey contacted me and said he was looking for a basketball player for his next film and I'm like 'Why not? I'm a basketball player, hopefully, I fit the role.' So I auditioned for it, he liked it and later he called me to tell me that I got the part. The basketball thing was my comfort zone, but as far as the acting, it was harder that I thought. I'd never been in that environment where I actually had lines and I had to remember everything. So I had to do a lot of studying, and Timothy put me with some of the best acting coaches around L.A. A lot of practice and repetition so by the time we actually filmed I was comfortable with it.
It's not exactly The Notebook, but Chris's lead role in Slamma Jamma is definitely something to brag about. The 2017 film follows Chris as a former basketball star who strives to win a national dunk competition after recently being released from prison. If the movie doesn't happen to be Becca's thing, Chris can always turn to the promotional material showing off his dunking to impress her.
According to a site about professional dunkers' wins, Chris has won seven dunking competitions, and he's so dedicated to that career choice that his Instagram barely has any mentions of life outside of dunking. AKA, there are really no hints of past relationships on his social media. Chris last posted an Instagram video on March 12, three days before Bachelorette filming was scheduled to begin.
While he isn't an official NBA player, Chris joins NFL star Clay Harbor and former football player Colton Underwood as contestants who have previously had their share of fame. Seeing how these athletes interact with each other and the other men is already making me so anticipated for this season - who's there for "the right reasons?"
Now living in Los Angeles, Chris could be edited as a troublesome guy based on his unorthodox career, but he also doesn't strike me as someone who could clash with a lot of people. Who wants to bet that he'll come out of the limo with a basketball in hand?
Season 14 of The Bachelorette premieres on Monday, May 28, at 8 p.m. ET on ABC.