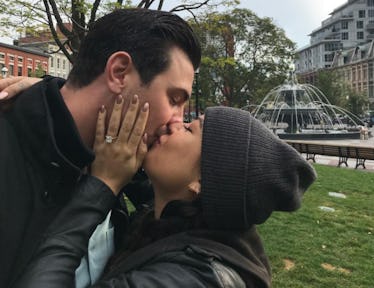 This 'Pretty Little Liars' Star Got Engaged & The Ring Is So, So Gorgeous
Janel Parrish, the actress who played Mona Vanderwaal on Freeform's Pretty Little Liars, is engaged! Yup, the 28-year-old Freeform star said yes when her boyfriend, Chris Long, popped the question over the weekend. Long reportedly proposed in Toronto, where Parrish is currently playing Sandy in a production of Grease the musical, and the ring is high-key amazing. So who is Chris Long? Parrish and Long have been together since September of 2016. They celebrated their anniversary on Sept. 3, each posting adorable Instagrams to commemorate their first year together. And they did the same thing when announcing their engagement!
Parrish and Long each posted the same picture of them kissing (ring front and center) to announce their happy news. Parrish said in her caption, "Went to the park for a stroll with Klee and came back with a fiancé. I get to marry my best friend and I'm over the moon. I love you @c_long," and Long said, "Locked it up" in his. And the ring... guys. Don't even get me started on the ring. It is insanely gorgeous, and it honestly looks like it's bigger than my face. Parrish posted a video showing off the rock with the caption, "I can't stop staring at it. I mean... @jeandousset you out did yourself 😍And @c_long you did GOOD."
I mean, seriously. Look how in love they look. My cold, dead heart is melting.
AND NOW I AM ALSO DROOLING OVER THIS RING.
The Pretty Little Liars Twitter account posted a congratulatory tweet for the couple shortly after they announced their happy news.
The sweet message said, "A pretty little proposal. Huge congrats to @JanelParrish + her now fiancé, Chris, on their engagement. So much happiness!"
Speaking of Pretty Little Liars, Parrish is going to be pretty busy planning her wedding while she's also starring in that Pretty Little Liars spinoff that's officially coming to Freeform! Yup, in case you didn't hear, Parrish will be co-starring in a PLL spinoff alongside Alison herself, Sasha Pieterse. The show is going to be called Pretty Little Liars: The Perfectionists. It's based on a book by the same author of the PLL series, Sara Shepard, and according to Hollywood Reporter, Pieterse and Parrish will reprise their roles of Alison DiLaurentis and Mona Vanderwaal. Seeing as Mona and Alison had one of the most tense relationships on the show, my guess is this new spinoff is going to be hella dramatic.
You can expect to see The Perfectionists on Freeform sometime in 2018, but in the meantime, you can turn to Harper Collins' description of the book to give you some insight into what we can expect from the new show and its setting — a town called Beacon Heights:
You don't have to be good to be perfect. From Sara Shepard, #1 New York Times bestselling author of the Pretty Little Liars series, comes another series full of juicy secrets, nail-biting suspense, and beautiful girls who will do anything to hide the ugly truth. Ava, Caitlin, Mackenzie, Julie, and Parker are all driven to be perfect—no matter the cost. At first the girls think they have nothing in common, until they discover that they all hate the same person: handsome womanizer Nolan Hotchkiss, who's done things to hurt each of them. They come up with the perfect plan to murder Nolan—jokingly, of course. They'd never actually go through with it. But when Nolan turns up dead in the exact way they'd discussed, the girls suddenly become prime suspects in his murder. Only, they didn't do it. So who did? Unless they find the real killer, and soon, their perfect lives will come crashing down around them.
Yeah, that sounds right up the Pretty Little Liars alley. But back to the happy couple!
Long and Parrish share a truly excellent doggo named Kleo, and they post a bunch of pictures of her because they are good people who know what their public needs.
They're also just an insanely cute couple.
Congrats, you two! Ain't love grand?