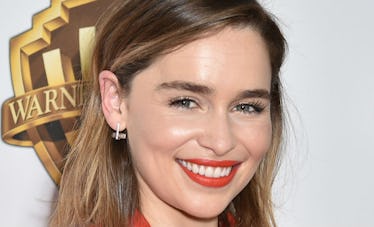 Watch Out Khal Drogo, Fans Think Emilia Clarke Has A New BF After Posting A Mysterious Photo
Rob Latour/Shutterstock
Emilia Clarke may have a new boyfriend! And he's an esteemed director, which could mean they're a perfect match. At least that's what their Instagram photos seem to be indicating. Clarke celebrated her 32nd birthday on Tuesday, Oct. 23 and once all the festivities were done for the day, she posted a mysterious photo from the beach. Coincidentally, Charlie McDowell posted the exact same photo and that's got fans wondering if they're romantically involved. So, who is Charlie McDowell?
Well, he's director and he's responsible for films like The Discovery, The One I Love, and Bye Bye Benjamin. So, while he may not be at the same level as Martin Scorsese or Christopher Nolan just yet, he's definitely on his way. More than anything, he's got potential and that has possibly caught Clarke's eye.
Elite Daily reached out to Clarke and McDowell's's teams for comment on these dating rumors, but did not hear back by the time of publication.
Whether the rumors are true or not, Clarke and McDowell are definitely giving fans lots to question and mull over, like those Instagram photos I mentioned earlier. In the photos, which both Clarke and McDowell posted on their respective Instagram accounts, you can see Clarke and McDowell's shadows at the bottom. And it kind of looks like McDowell might be giving Clarke a kiss. But I can't be sure, so you'll just have to give the photo a look yourself.
What do you think? There's something going on there, right? Or am I imagining that? Whatever is actually going on there, the caption on the photo makes it pretty clear that this was a birthday to remember.
"Well that was a birthday I won't be forgetting in a while. ❤️," Clarke wrote on her post.
McDowell captioned his post with, "Happy birthday, E. ❤️"
So, they're both using heart emojis to convey the nature of the birthday outing which is highly suspect. Does that mean it was a romantic trip to the beach? Did they just have a great time and decide to show that with mutual heart emojis? I don't know, but all the evidence is pointing to the possibility that they're dating. And if that's actually the case, then that's wonderful news for them both!
The same day Clarke posted the beach photo that seemingly references McDowell, she also posted another photo from her birthday celebrations. In the photo, Clarke is posing with a chocolate dragon cake and laughing.
Clarke captioned the photo with, "FULL DISCLOSURE: dragons are not for eating. Only for riding, and the occasional bbq. However this chocolate cake explosion of love is..(that grin managed almost the whole thing)."
So, Clarke obviously had a great birthday regardless of all the romance rumors making the media rounds right now. But, you know, if Clarke and McDowell actually are dating, then I hope he made her super happy that day! Maybe all the Game of Thrones fans out there will get a confirmation on the romance sometime soon. Until then, all they can do is speculate!