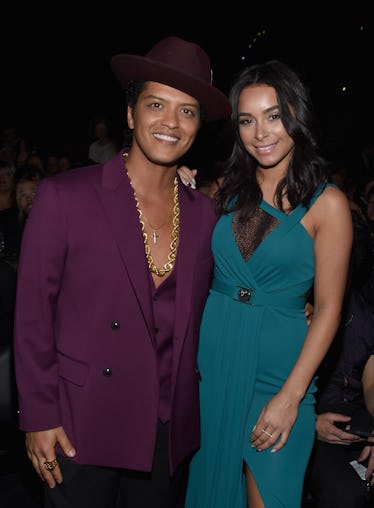 Bruno Mars Has Been Dating This Model For Over 5 Years & She's Gorgeous
Larry Busacca/Getty Images Entertainment/Getty Images
Quick question: Did you know Bruno Mars has a girlfriend? Did you know he's been dating her for five years? Isn't that crazy to you? If you've been wondering who Bruno Mars is dating, then get ready to meet model Jessica Caban. She's talented, gorgeous, and has won the heart of this pop prince.
Bruno Mars is known for his smooth charm, sexy dance moves, and extra crazy-white teeth. While he sometimes carries a "party boy" reputation, the public doesn't know that much about Mars' personal life... just a handful of the basics.
For example, we know the "Treasure" singer is from Hawaii originally, not very tall, and according to the internet, was born with the name Peter Gene Hernandez. Now we also know he's had a girlfriend for a really long time and she's awesome.
Caban is a model and actress, appearing in familiar print campaigns for Steve Madden and once starring in a movie called Shades of Love.
While doing my research, I spent an uncomfortable amount of time on Caban's Instagram feed looking at her perfect nose structure. I'm here to tell you it's a literal treasure. (Get it? Like his song?!)
I mean, look at this.
LOOK AT THAT NOSE.
According to Bustle, Caban has had a long career as a model, coming in second for Jennifer Lopez's NYC model search in 2002. Six years later, she won a contract with Q Management and the title of Model Latina on NuvoTV in 2008.
Sure, sure. Me too.
Daily Mail reports Mars wasn't interested in taking things slowly, and the two moved in together after only one year of dating. They've lived in a Hollywood Hills mansion ever since.
It's like, how did I not know this five years ago?
Bruno, why don't you call me?
For the most part, Mars and Caban stay out of the press but have been spotted doing normal things like grocery shopping and dressing up as Game of Thrones characters. Ya know, the way your average Grammy Award winner and international model might.
While you'll be hard-pressed to find a ton of interviews on their relationship, there was a hot rumor circulating for a minute that Caban might be pregnant. Teen Vogue reported that due to an Instagram story where Caban apparently used the pregnant lady emoji, some fans began freaking out wondering if a little baby Bruno was on the way.
She also liked a comment one user left that said,
I'd be happy af if @officialjessicacaban was pregnant with Bruno's baby [sparkly heart emoji] she's been there for him throughout the worst times in his life. She stayed with Bruno for years [heart emoji].
Still, this was back in June 2017, and here we are, a full five months later, with no confirmed baby on the way.
Regardless of a baby bump or not, Mars and Caban can assume all eyes will be on them this upcoming Sunday, Nov. 18, for their appearance at the American Music Awards.
Mars has eight nominations this year, which is the most out of any artist. He also has a nomination for Artist of The Year. On top of that, he'll be battling Daddy Yankee and Luis Fonsi's song "Despacito" for Video of The Year with his video for "That's What I Like."
Mars is leading a pack of music icons like Drake, Ed Sheeran, and The Weeknd, who are close behind him with five nominations each, and Justin Bieber trailing a step further back with four nominations.
Be sure to tune in this Sunday and see if you can catch a peek of his gorgeous treasure, Jessica. Best of luck, Bruno!
Check out the entire Gen Why series and other videos on Facebook and the Bustle app across Apple TV, Roku, and Amazon Fire TV.