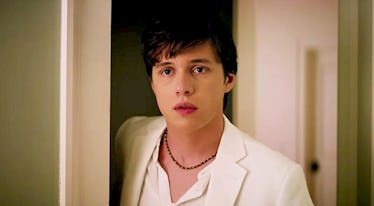 The 'Love, Simon' Writers Reveal Why They Decided On That Major Twist Ending
20th Century Fox
Love, Simon is breaking barriers as the first major studio movie about a gay kid, and along with that distinction, it is also just a really sweet, funny, and heartfelt high school rom-com. Well, it's a rom-com that is kind of warped into a whodunnit-style mystery, as both Simon and the audience tries to work out the identity of the title character's secretive, email-sending love interest, known only by his pseudonym Blue. Throughout the movie, we are all wondering the same thing: Who is Blue in Love, Simon, and in the end, we get an unexpected answer. The movie's writers spoke about how they made that twist ending so shocking, and why they decided to show it the way that they did, in an interview with the Hollywood Reporter.
Spoiler alert: I'm going to be talking about the ending of Love, Simon, so don't read on if you haven't seen the movie for yourself yet. In Love, Simon, Simon Spier develops an intimate email-based relationship with a fellow closeted gay kid at his high school, who sends him messages under the alias Blue. Simon suspects a few different guys to be Blue throughout the movie: Could it be his sweet friend Bram? Or the grinning Waffle House employee Lyle? Or maybe the drama club pianist Cal? As Simon grows closer to each possibility, he is forced to cross them off his list: He catches Bram making out with a woman, then Lyle admits to Simon that he's interested in his friend Abby, and Cal straight-up tells Simon that he's not Blue. With all of the movie's main suspects officially ruled out, both Simon and the audience are left at a loss as to who Blue really is as the movie is about to end.
But thankfully, Love, Simon does not leave us scratching our heads and inventing crazy fan theories about Blue — in the climactic scene, Simon challenges Blue to meet him in person on the Ferris wheel at the town carnival, and to his surprise, Bram (Keiynan Lonsdale) shows up and kisses him, revealing himself to be Blue. He explains that he was drunk at the party when Simon saw him kissing a female classmate, and was struggling with publicly coming out just as much as Simon was.
The final scene with Simon and Bram has extra payoff because it is a legitimate surprise to the audience, after moviegoers wrote off Bram as a possibility due to that earlier make-out scene. It was that party scene that Love, Simon writers Elizabeth Berger and Isaac Aptaker emphasized was so critical to the mystery element of the movie.
Aptaker explained that they didn't want Blue to be some stranger that we had never seen before — because he wanted us to have seen hints of Simon's chemistry with the character earlier in the movie — but he and Berger also wanted to make that final reveal as surprising as possible. To strike that delicate balance, they included the earlier scene where Simon catches a drunken Bram making out with a woman, leading both Simon and the audience to rule Bram out as Blue:
The best note we got on this movie, and I think the best note we've gotten on anything, was the scene in the movie where Simon discovers Bram hooking up with the girl at the Halloween party, and using that to really throw the audience off the scent ... We always knew that we wanted Simon to share screen time with Blue, so you can see that they have chemistry and that there's a connection there and it's not just a stranger showing up. But you also don't want your audience to get ahead of it. Once we got that note of really misleading everyone in thinking that he's straight, then you really do stop thinking about that guy.
In the 2015 YA novel Simon vs. the Homo Sapiens Agenda — on which Love, Simon is based — Simon also ends up with Bram, but that party make-out scene is not a part of the story. Because of this new addition, the movie may even throw off book-readers who come into the film already expecting Bram to be revealed as Blue. Those screenwriters — they know what they're doing!