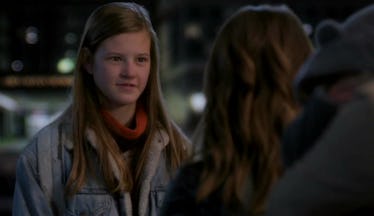 Refresh Your Memory On Betty Before 'Grey's Anatomy' Season 15 Premieres
ABC
Grey's Anatomy has stayed on the air for 15 years and counting. One reason the show can keep going is the constant cast turnover, which has been a factor since the early years when Isaiah Washington left after Season 3. The turnover isn't limited to the hospital staff either, but also those who float in and out of the lives of the doctors and nurses stationed there, some of whom start out as patients and then never are fully discharged from the guest cast rolls, like Betty. So, who is Betty on Grey's Anatomy?
Betty is a relatively new figure on the Seattle Grace scene. She wasn't even a patient when she turned up, but the mom of foster kid Leo who Owen Hunt had taken in recently. Arriving towards the end of last year, in Season 14, Episode 21 "Bad Reputation," Betty turned up to visit Leo during his six-month checkup. When Amelia, Owen's estranged wife, lays eyes on Betty, she recognizes a fellow struggling addict, and by the end of the episode has taken the girl in.
Amelia's problems staying on the wagon have been well-documented over the year's she's been on Grey's Anatomy. (She arrived in Season 7 but didn't become part of the permanent cast until Season 11.) It's not surprising Amelia's feels like bringing Betty home to live with her and Owen to be near her son would be a good idea.
So far, things haven't been going so well. But then again,. Betty hasn't been around very long either. By the very next episode, Betty had run off after the opioid withdrawal became too much. She was back again by the penultimate episode of the season, claiming to have stayed sober. But Amelia saw right through those claims, and by the end of the episode, Betty admitted she'd been so high she didn't even think about her kid.
Betty spent the season finale last year mostly floating around the background, with Amelia taking her to meetings, and working with her to stay sober. There is enough of a time jump between the two episodes, Betty's gotten her 30-day chip already, but Amelia's hope Betty's parents will turn up and create some sort of family reunion falls flat. She's hoping maybe they'll come when she invited them at the 60-day mark, which fans assume will be sometime this coming season.
But fans are concerned Betty's newfound stability with Amelia and Owen may not last. Technically, the two of them aren't a couple, but Betty is pretty sure they are, they just don't seem to know it. Everyone knows Teddy is coming back into Owen's life this coming year, and she's pregnant with what everyone assumes is his baby. Betty may find it's Amelia who is the one going off the rails this time, and the tables have turned as to who is taking who to meetings.
Grey's Anatomy's two- hour Season 15 premiere arrives this coming Thursday, Sept. 27, at 8 p.m. ET, followed by the premiere of How To Get Away With Murder.