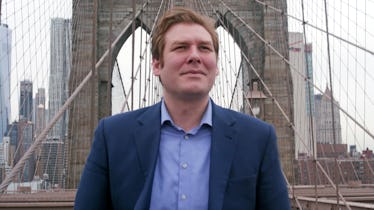 Why This Millennial True Crime Podcast Host Is Running For Office In Brooklyn
Ben Kissel stands on a corner in midtown Manhattan. He's well under the age of your average politician, and well over the height of all the passersby. Unsurprisingly, he's wearing his de facto uniform of jeans, a graphic tee, and a powder blue suit jacket; perhaps more surprising, this smiley, 30-something podcast host Kissel is running for Brooklyn borough president as the Reform Party's candidate.
In the post-Trump era, with a reality TV star holding our country's highest office, stories like Kissel's are becoming more common — droves of young people are getting involved and seeking public office. On the one hand, the 2016 election showed us that candidates don't have to be qualified to win. On the other, it was a rude awakening that the dissatisfied have to take politics into their own hands.
Enter Ben Kissel. At his "day job," Kissel — along with co-hosts Marcus Parks and Henry Zebrowski — hosts a true-crime-meets-paranormal comedy podcast. Last Podcast on the Left is ranked second on iTunes' comedy chart and draws fans across the globe. But like many dismayed young voters, Kissel took 2016 as a wake-up call to run for office. He's now a candidate for Brooklyn borough president and is up for election on Tuesday, Nov. 7.
"I want to show people you can do it," Kissel tells me about his decision to run, "and hopefully a lot of young people will follow. I want to get people who were not at all involved, or who thought politics was full of stuffy, old douchebags — because in a lot of ways, it is — to break out of that and say 'enough, let's make it better.'"
As someone who's been recorded in podcasts and on the radio for eight years, Kissel acknowledges that a lot of people hesitate to run for office for fear of criticism or having their past exposed. His advice? Own it. After all, he says, everyone has their own past, and as long as you "treat the voters with humanity and respect," voters can "accept all the flaws that go with that person, as long as that person is willing to accept them."
Like the criminals he covers on Last Podcast, Kissel says with a laugh, "a lot of politicians are sociopaths with no moral compass. Obviously not all of them, but we want the people that have scruples, morals, and are worried about their own failings."
It's up to our generation to start taking control.
Still, Ben cautions that there are risks when unqualified people run our government, and those who choose to run for a position should be doing real research on policy instead of "just [throwing] out these grandiose cultural themes, like Trump does, with zero practical policy behind them."
And Kissel has done his policy research. Brooklyn borough president is a big position. With a population of over 2.6 million people, Brooklyn (New York City's largest borough) is almost the size of Chicago — and it's growing. Kissel has spent time walking around Brooklyn — which, he says, feels like "six different countries — and talking to the people he passes on the street about their lives.
Kissel's platform emphasizes rent control and land use reform in Brooklyn, where young people and families alike are being uprooted by corporate developers. "Brooklyn has always been the ultimate example of the melting pot. That's the whole point of this brilliant metropolis: it's interwoven with different cultures, ethnicities, and backgrounds," he says.
With most other legislation coming from state and federal legislators, Kissel sees the borough president as an advocate for Brooklyn above all else. If elected, he says, he'd cut the office's budget and keep his day job, so he can focus on supporting the borough instead of trying "to make money off the position."
"I want to be the best advocate, a cheerleader for Brooklyn. I think that's truer to the spirit of the position," he says.
As an advocate, Kissel hopes to highlight local businesses and art on a weekly basis. He also plans to use his platform to support criminal justice reform, honest policing, and a reduction of prejudicial stop-and-frisk. He additionally advocates for legalizing recreational marijuana, practical technology policy, and vocational education for secondary students.
At the end of the day, Kissel trusts that millennials have the power to create practical, competent, and respectful solutions across the board. "It's up to our generation to start taking control. There's a huge group of people in the middle who might disagree on certain things, but who base their views on rational thought. It's up to the rational people to speak up. And that's not exciting sometimes! It's not as exciting as, say, 'Pizzagate.'"
For someone who faces the worst of humanity with dark humor at his day job, Kissel truly believes in the best of people. He believes in redemption, sincerity, and good intentions. These traits might seem just as odd in a true-crime aficionado as they do in a politician, but they're the same traits that give a young, non-politician the unique ability to serve the public. No matter what happens on Tuesday, Kissel says, there's no losing. "The fact that we're on the ballot is unbelievable, and that we're able to inspire people to run or engage in the political process — that's a win. That's a massive win," he says.
Kissel wants others to take heart in this message, too: "Losing is a big fear for people, but who cares! Just get out there, and if you keep getting out, keep doing it in any field, you're gonna win."