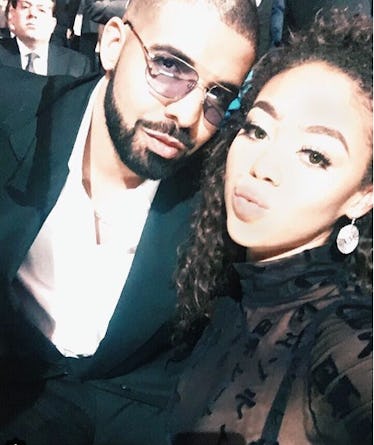 Drake May Have Found Love With This 18-Year-Old Model, So Move Aside Kiki
Instagram / Bella B Harris
Um, KiKi who? Drake is apparently totally over the woman who inspired his hit track "In My Feelings," and is now on board with someone new. According to Page Six, the 31-year-old rapper is reportedly seeing someone slightly younger than him, and by slightly, I mean literally almost half his age. 18-year-old model Bella B Harris appears to be Drake's new love interest, and she is so beautiful that it actually hurts. So, who is Bella B? While we don't know all that much about her, we do know a few things about her reported romance with the Scorpion singer.
Page Six reported that Drake and Bella dined at RPMK Italian restaurant in Washington, DC, on Monday, Sept. 10. The publication reported that Drake was "spotted enjoying a beverage at the bar," and Bella joined him using the "restaurant's back entrance, ultimately joining Drake at the Amaro Bar."
Elite Daily reached out to both Drake and Bella B's teams for comment on the report and the status of their relationship, but did not hear back by the time of publication.
I'm going to completely overlook the fact that Drake was reportedly spotted drinking without Bella probably because SHE IS 18 YEARS OLD and not legally able to drink, so let's focus on what they apparently ate. Page Six reported that the couple dined solo, "tasting an array of dishes including sweet corn agnolotti, spaghetti and meatballs, Mediterranean octopus and roasted salmon," and Drake balled out even harder and reportedly ordered the "picatta moderno and whipped potatoes."
Um, hey Drake, next time you head out to dinner, can you please invite me? Because this sounds like a dream feast.
An onlooker also told the publication that the couple was "getting cozy during their late-night dinner," so this might be more than just a fling, you guys.
And just a friendly FYI, Bella basically showed the world that she and Drake were ~a thing~ all the way back in August by posting a photo of her and Drake hugging intimately and captioning it, "no place I'd rather be."
I'm sorry, but how did we miss this? Shame on us.
And, while there's no denying the fact that Bella B is definitely young, it's clear that she's driven, too. According to E! News, Bella "graduated from high school in June and has posed for the likes of Calvin Klein, Guess and Forever 21."
So, how did Bella B meet Drake? There's no definitive proof, but Metro reported that the pair may have connected when Bella modeled for Drake's record label. "According to her agency, the teen has also modeled for Drake's OVO label," the publication reported, adding that it "suggests their initial connection could have been through a campaign."
But modeling aside, it seems like Bella met Drake at least two years ago, posting a photo of the two together on Instagram while attending the 2016 American Music Awards, tagging the rapper and captioning the photo, "Congrats tonight ⭐️ @champagnepapi":
It's also reported that the model has some family connections in the music industry as well. Her father is "the esteemed R&B music producer Jimmy Jam who, alongside his musical partner Terry Lewis, has recorded several number one hits for Janet Jackson, George Michael, Mariah Carey, Boyz II Men and Usher," according to Metro.
While the age difference is slightly more than I'm typically comfortable with, they do look like they make a cute couple. Now, we'll just have to wait and see if her name ends up in any of Drake's future song lyrics.