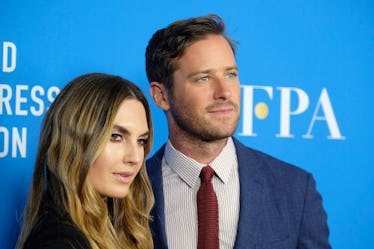 Armie Hammer & Elizabeth Chambers' Relationship Will Seriously Melt Your Heart
Frazer Harrison/Getty Images Entertainment/Getty Images
Every year during awards season, a new celebrity couple wins over our hearts with their sense of humor and poise on the red carpet. In years past, we've become obsessed with been Beyoncé and Jay-Z, Portia and Ellen, and Chrissy and John (OK, we love them every year), but this year, it's husband and wife Armie Hammer and Elizabeth Chambers who are giving us all the feels. We know all about Hammer and his romance with Timothee Chalamet in Call Me By Your Name, but who is Armie Hammer's wife? Before the stars grace the Oscars red carpet on Sunday, March 4, there are a few things you should know about this talented couple.
Believe it or not, Hammer and Chambers have been married since 2010, the same year that the Call Me By Your Name star got his big break as the Winklevoss twins in The Social Network. Hammer told Vulture in 2006 that the two first met at an "adventure day" with mutual friends that included trips to various museums and a hidden gun range in Los Angeles. Chambers had a boyfriend at the time, so despite feeling like he'd "been knocked over" when they first met, Hammer settled on being friends with his future wife. However, he quickly realized that he couldn't hide his feelings, and he begged Chambers to break up with her boyfriend. "Our friendship continued to grow and grow until one day when I was like, 'I can't be friends with you anymore. You've got to break up with your boyfriend, and we've got to start dating,'" he said. Can you blame her? If Armie Hammer came knocking, I'd drop everything and just stare at his face for the rest of my life.
When the couple first met, Chambers was working as an actress, as well. She's best known for her work in TV shows like Criminal Minds and 2 Broke Girls, in which she had small but recurring roles, and the 2007 movie The Game Plan, alongside The Rock. In addition to her acting background, Chambers worked as a entertainment correspondent for well-known programs like E! News, Entertainment Tonight, and Access Hollywood. But recently, Chambers has stepped away from entertainment to focus on her love for baking. In 2012, Chambers opened BIRD Bakery in San Antonio, Texas, which she still owns and operates to this day.
The star couple have a 3-year-old daughter named Harper and a 1-year-old son named Ford, but they still have time to make their relationship a priority. "We do a sushi date night either every Wednesday or Thursday. Armie's been away shooting in Montreal, which has been a bit tricky but we do [make it work]," the actress told Us Weekly. And even with the craziness of awards season, Hammer and Chambers make sure to carve out alone time. "I think it's really important. We realized really early on that that was the key to connecting," said Chambers.
Many celebrity couples shy away from posting about their relationship on social media or discussing it publicly with reporters, but Chambers and Hammer are clearly so comfortable with each other that it's not an issue. And thank god for that, because how else would we know that the couple is frolicking around Paris, or getting drunk in Grand Cayman, or unwrapping Christmas gifts in matching tacky pajamas?
After 8 years of marriage, Hammer and Chambers are so totally in love that they still talk about their relationship like newlyweds. When asked what he loves most about his wife, Hammer told Us Weekly that he doesn't even have to think about it. "Everything. That's the easy answer." He continued, "Her brain, she's one of the smartest people I know. [She's] way smarter than me!" Chambers reciprocated the sentiment, saying, "I love him so much. Every time I look at him it makes me so happy."
Same, girl, same.
Editor's Note: The article has been updated to accurately reflect Elizabeth Chambers current job.