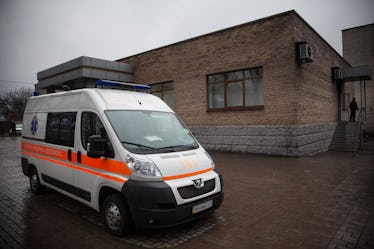 A Russian Journalist Staged His Own Death & No, This Isn't A Movie, This Is Real Life
Andrew Burton/Getty Images News/Getty Images
One day, he was "dead." The next, alive. Now, he has become the subject of a news story so bizarre it's making headlines internationally, and prompting the question: Who is Arkady Babchenko?
Babchenko is a 41-year-old Russian journalist known to be critical of the Russian government and its president, Vladimir Putin. On Tuesday, May 29, Babchenko was widely reported to have been shot dead in his apartment in Ukraine. Babchenko had fled Russia in 2017 after receiving death threats, The Guardian reports.
The story seemed unfortunate, but familiar: A critic of Vladimir Putin, who had left the country, dies mysteriously, amid speculation that Putin allegedly himself orchestrated, or at least sanctioned, the murder. For their part, the leaders of Ukraine and Russia had blamed each other for his "death."
That type of storyline has repeated itself over the years, so much so that a literal laundry list of such murders could be made. Babchenko's case was different, though. On Wednesday, the journalist showed up at a press conference in Kiev, the Ukrainian capital, proving the reports of his demise to be greatly exaggerated.
To the public, he was alive, dead, and alive again within a span of 24 hours.
At the press conference, Babchenko revealed that his "death" was staged, and all part of a calculated plot. "An offer was made to take part in this special operation, I had no choice but to cooperate," Babchenko said on Wednesday, per CNN.
The plot was designed to expose the hitmen believed to have been allegedly planning to kill Babchenko, a Ukraine security official said, per BBC.
The plot resulted in Babchenko's wife, whom he said did not know about the plan, finding her husband bleeding in their apartment on Tuesday. Afterwards, he was reported to have died in an ambulance, according to a government official.
At the press conference, Babchenko apologized to both his colleagues and his wife.
"I would like to apologize for what you all had to go through ... because I've buried friends and colleagues many times, and I know it's a sickening-vomiting feeling when you have to bury your colleagues," the journalist said, per CNN. "Also I would like to apologize to my wife for the hell she went through in those two days. Olechka, I'm sorry, but there were no options here either."
The reports of Babchenko's death prompted tributes to the 41-year-old, who is a former soldier and war correspondent. On Wednesday, The Atlantic's Julia Ioffe, a foreign policy writer, shared a video on Twitter that she says showed the elated reaction of Babchenko's colleagues to his press conference.
A day earlier, the reports of Babchenko's death prompted finger-pointing between the Ukrainian and Russian governments.
In a statement after reports of his "killing," the Russian ministry blamed the murder on a lack of safety in Ukraine. "The level of physical violence and murders of the media workers in this country [Ukraine] has been growing consistently and the investigations do not result in the punishment of the criminals," the statement said, per CNN.
Russian lawmaker Yevgeny Revenko made a similar statement on Russian television after reports that Babchenko was killed, per The Guardian, saying, "Ukraine is becoming the most dangerous country for reporters. The Ukrainian government can't guarantee basic freedoms."
In a Facebook post published on Tuesday, Ukrainian Prime Minister Volodymyr Groysman suggested that the murder was the work of Putin. "I'm sure that the Russian totalitarian machine did not forgive him his honesty and his fidelity to principle," the post reads, per CNN. "Best friend of Ukraine, who told the truth about Russian aggression to the world. The murderers must be punished!"
Now, a day later, after a seemingly miraculous return to life that he never lost, there is no death for either government to fight over.