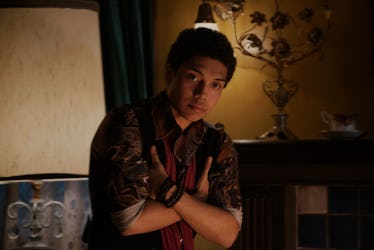 Here's What Fans Should Know About Ambrose In 'Chilling Adventures Of Sabrina'
Diyah Pera/Netflix
Whether in the form of the sunny sitcom or the kid-friendly animated series, the Spellman family of the Sabrina the Teenage Witch comics is best known as a trio of powerful witches balancing real life with the strength of their magical powers. Netflix's creepier take on the teen witch adds a dose of eccentric masculinity to the Spellman household that fans of previous TV renditions probably aren't familiar with. Who is Ambrose on Chilling Adventures of Sabrina? Sabrina's warlock cousin lives with her and her aunts in the new Netflix drama. This post contains spoilers about Chilling Adventures of Sabrina.
Played by Chance Perdomo, Ambrose appears in the series as a English, bathrobe-wearing recluse who the Witches Council has placed under house arrest for 75 years. A full warlock as opposed to Sabrina's half-mortal status, he's forbidden to leave the grounds of the Spellman home, which happens to double as a mortuary. There, he assists his aunts Hilda (Lucy Davis) and Zelda (Miranda Otto) in the dirty work tied to their business. When he's not conducting autopsies in the basement, Ambrose nudges his little cousin Sabrina (Kiernan Shipka) toward solutions to avoiding her Dark Baptism and fixing more human complications at her high school.
Although the character didn't appear in the ABC and The WB series Sabrina the Teenage Witch, he's actually just as canon as Sabrina and her aunts are. Ambrose was a character in the original comic book series starring Sabrina, but the unique way the Netflix series presents him is based on its source material of the darker Chilling Adventures of Sabrina comics. When relative newcomer Perdomo was announced for the role in February, press releases said about Ambrose, "Witty, puckish and pansexual, he is one of Sabrina's partners in crime, always up for mischief."
While Sabrina's first season eventually includes storylines about Ambrose's sexuality, Perdomo has already discussed the significance of portraying this perspective, telling SyFy:
It dawned on me that, and I don't take it lightly, that there's a responsibility that comes with the role and I'm honored to be able to play with this role and be a part of this inclusivity... to have a pansexual person of color played with depth, and played as a multifaceted individual that not only is artistically satisfying but it's gratifying to be able to showcase that; and I hope so with grace but without artistic license; a human being that's more representative of the world we live in.
In Chilling Adventures of Sabrina, the Spellman house isn't exactly the girls-only coven it was on the Melissa Joan Hart series, but the addition of Ambrose brings an Old World flair to the show, thanks to both the character's background and Perdomo's own English roots. According to his IMDb page, his previous work was in exclusively British projects, but as a Netflix series tends to do for its actors, Perdomo's popularity ought to skyrocket soon. While we hope he spends plenty of time working on Chilling Adventures of Sabrina, it's totally a travesty if Perdomo and his droll delivery never tackle a Shakespearean role someday.
Season 1 of Chilling Adventures of Sabrina is currently streaming on Netflix.