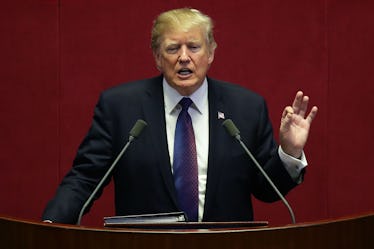 Trump's New HHS Secretary Has A Troubling History
Chung Sung-Jun/Getty Images News/Getty Images
Donald Trump has selected his nominee for secretary of the U.S. Department of Health and Human Services (HHS). The president took to Twitter on Nov. 13 to announce that he has chosen former pharmaceutical executive Alex Azar for the role, promising that his pick would be "a star for better healthcare and lower drug prices." So, who is Alex Azar, and will he live up to Trump's stamp of approval? Here's what we know about so far.
Azar, a conservative and graduate of Yale Law School, has a few notable notches on his resume. From 2005 to 2007, he served as Deputy Secretary of the HHS for George W. Bush, and oversaw programs and operations like Medicaid, Medicare, public health, and the regulation of food and drugs. After leaving his position in government, Azar transitioned to the pharmaceutical industry, heading a company called Eli Lilly. During his time at Lilly, the company was continuously accused of raising drug prices. In March 2017, a class action lawsuit was filed against Eli Lilli and two other pharmaceutical companies — Novo Nordisk and Sanofi — for bumping up the price of insulin, according to CNN.
This is particularly notable given the fact that Trump ran a campaign railing against the pharmaceutical industry.
"They're getting away with murder, pharma," Trump said during a press conference in January. "Pharma has a lot of lobbies, a lot of lobbyists, a lot of power. And there's very little bidding on drugs. We're the largest buyer of drugs in the world. And yet we don't bid properly."
Trump has also tweeted numerous times against rising drug prices.
Some Democratic senators and representatives were quick to call Trump out for seemingly back peddling on his war against the pharmaceutical industry on Monday, Nov. 13. You know, by selecting a nominee that basically is the pharmaceutical industry. Representative Peter Welch (D-VT), tweeted out a statement, saying,
President Trump has railed against the pharmaceutical industry 'getting away with murder' on drug prices. He promised the American people he would bring skyrocketing drug prices 'way, way, way, down.' But when given the chance to put his money where his mouth is, he brazenly nominated a former pharmaceutical executive to lead the agency charged with managing prescription drug costs. Instead of draining the swamp, he has set the fox to guard the henhouse.
Senator Patty Murray (D-WA) added her own concerns on social media, writing,
Given Alex Azar's professional background, there are concerns on whether he can fairly execute any significant effort to lower drug prices for patients & families.
On the other side of the aisle, a slew of Republican senators expressed approval of Trump's nominee and were hopeful that he'd help dismantle the ACA. "The leader of HHS will be at the tip of the spear, working to not only right the wrongs of this deeply flawed law but also ensure the long-term sustainability of both Medicare and Medicaid," said Senator Orrin Hatch (R-UT), wrote in a statement. "Mr. Azar has the experience, knowledge and fortitude to take on these daunting challenges."
A few other Republicans followed up with similar, positive sentiments.
While Azar has not quite slammed the ACA to the same extent that Trump has, he has certainly expressed his qualms with it. During an interview with Bloomberg TV in June, he said,
I'm not one to say many good things about Obamacare, but one of the nice things in it is, it does give a tremendous amount authority to the secretary of HHS. There are still changes that can be made to make it work a little better than it has been.
We'll just have to wait until this all unfolds in Senate.