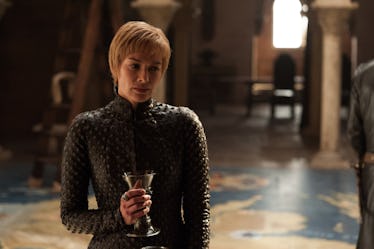 The Golden Globes Snubbed All Of These Faves, & We're Seriously Fuming
Every year, the Golden Globes snubs someone. After all, there are only so many nomination slots, and there can only be one winner per category. Even if the best movie and show win in every category for every division, some fans, somewhere, are going to be sad because their favorite didn't take home the prize. This year is no different from any other – there were several TV shows and movies that found themselves in the Golden Globes Snubs pile.
Even before the awards were given out, there was already a major controversial snub in the movie division, in the Best Directors category. In a year where women found themselves clawing tooth and nail to make headway after the 2016 setback of an election, and months after the Harvey Weinstein scandal dominated headlines and spawned the #MeToo movement, the Golden Globes somehow failed to nominate any women directors, despite their being a plethora of options.
Greta Gerwig's Ladybird, Patty Jenkins' Wonder Woman, and Dee Rees' Mudbound were all greeted with serious praise this year. Wonder Woman had the added bonus of being one of the Top Three Grossing Films of 2017. Yet, when the names were announced, all were left out in the cold.
Others walked in knowing they were in for a snubbing. In the TV division, Game of Thrones Season 7 had no chance with a murderer's row of Best Dramas to compete against, all of which are newer and sexier with greater buzz. At this point, the TV series' last, best hope is that after their final episodes air in 2019, the Globes decide to treat them the way the Oscars treated Lord of the Rings: Return of the King in 2003 and slather it with awards as much for the contribution in changing the landscape of television than for the genre busting popularity of the show itself.
But they weren't the only ones snubbed for Best Drama. That's because the field was tough. This Is Us is one of broadcast network's best offerings, but how can it compete with the pizzazz or cable and streaming budgets? Their best hope to win was Sterling K. Brown going in, which they got, but it was their only win.
Stranger Things is a popular hit, but it couldn't make it past the nominations last year, and there was no way Season 2 was pulling off a miracle, not with last year's winner The Crown and newcomer The Handmaid's Tale blocking the way. At least Netflix slipped in David Harbour by cleverly putting him in the "Limited Release" Supporting Actor category, though he lost to Big Little Lies. (Note that This Is Us did the same thing for Chrissy Metz, but by doing so also guaranteed she'd lose out to Big Little Lies.)
In the Comedy/Musical TV category, the return of Will & Grace got recognized in nominations, but couldn't get a win. Instead, The Marvelous Mrs. Maisel took home the prize and I think everyone was slightly grateful. In fact, Will & Grace got shut out, with Eric McCormack losing to last year's biggest snub, Aziz Ansari on Master of None.
Over in the movie world, it was almost universally accepted that Dunkirk had lost too much traction since its release early in the year and that Three Billboards Outside Ebbing, Missouri was just too weird and Taratino-esque for the voting crowd. Both went in expecting snubs. Turned out that latter judgment was wrong. The Post, which was expected to sweep, got almost nothing. But there was hope for Christopher Plummer, who literally wasn't even *in* All The Money In The World ten weeks ago, and then killed it in his replacement role of J. Paul Getty. Sadly, not to be. Snubbed!
The Comedy/Musical category was more of a toss up. Everyone loved The Greatest Showman while yelling about how bad it was, and though everyone agrees Get Out is amazing, many industry insiders weren't sure the Hollywood Foreign Press would actually have the nerve to reward it. This left too many toss ups and far too many possibilities of someone feeling snubbed by the end of the evening. In the end Ladybird won, along with Saoirse Ronan for Best Actress in the same, highlighting again how Greta Gerwig was robbed by being passed over for Best Director.