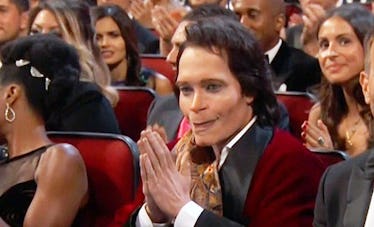 Donald Glover Wasn't Dressed As Teddy Perkins At The Emmy Awards, It Was This 'SNL' Alum
NBC
One of the most bizarre moments from Monday night's Emmy Awards came when the cameras panned over a very unsettling gentleman in the audience, whom Atlanta fans recognized as the creepy recluse Teddy Perkins. Since Donald Glover was nominated for portraying Teddy Perkins in the second season of Atlanta, everyone just naturally assumed that Glover was the one underneath that mask of prosthetics, but then we saw Glover looking like himself in the crowd just a few moments later. So, who dressed as Teddy Perkins at the Emmy Awards? One Saturday Night Live alum managed to fool all the Atlanta fans who watched the ceremony.
Once it was revealed that Donald Glover was dressed in a suit per usual later on during the Emmys, everyone wondered who that Teddy Perkins could have been. A bunch of people assumed that Glover was able to quickly change out of his costume midway through the night, but it turns out, this Teddy Perkins was an entirely different person. Sources confirmed to Entertainment Tonight that comedian Jay Pharoah was the man dressed as Teddy Perkins throughout the Emmy Awards.
The truth becomes clear when you check out Jay Pharoah's Instagram account. The former Saturday Night Live star snapped a pic with Atlanta stars Donald Glover, LaKeith Stanfield, and Brian Tyree Henry while dressed up as their show's creepy character Teddy Perkins... although Pharoah's caption did not reveal that he was the man behind the prosthetics. But a selfie that Pharoah took later that night shows him in the same red jacket as Teddy.
It looks like we all got fooled by Teddy Perkins once again! When the Atlanta Season 2 episode in which Teddy starred first aired, pretty much every viewer could not figure out who was playing this strange, Michael Jackson-esque new character, but then it was revealed to be none other than the show's star and creator Donald Glover. Glover's castmates later stated that Glover fastidiously remained in character as Teddy Perkins even when the cameras were not rolling, insisting that everyone on set refer to him as Teddy rather than Donald.
It was that intense character work that helped to convince viewers that the Teddy Perkins at the Emmy Awards really was Donald Glover, and he was preparing to accept his possible award in character as Teddy Perkins. It made sense because Glover was nominated in the Outstanding Lead Actor in a Comedy Series category for his Teddy Perkins episode, and when Glover lost the award to Barry star Bill Hader, fans were disappointed that we did not get to see Teddy Perkins take the stage. It turns out, though, we probably would not have seen the bizarre character on stage even if Glover did win, because it was not Glover in that costume; it was Jay Pharoah.
Though it was one of the most nominated shows of the night, Atlanta left the Primetime Emmys without any awards. There is still next year, though — the hit HBO comedy series has already been picked up for a third season, which is set to air sometime in 2019.