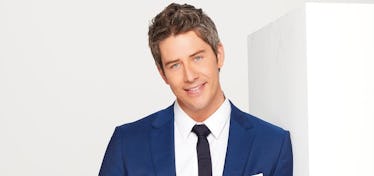 4 Contestants On 'The Bachelor' Have The Same Name, So Here's How To Tell Them Apart
The Bachelor is almost ready for its season premiere on Monday, Jan. 1, but before we watch Arie Luyendyk Jr. start his search for ~the one~, we need to learn about the women. There are 28 total contestants this year all hoping to make it to the final rose ceremony. One confusing part of this year's Bachelor cast, however, is the fact that there are four different women all named Lauren. That's going to be a little hard to keep track of... So who are the four Laurens on The Bachelor? We'll be able to differentiate between them thanks to ABC's website. And, you know, once we learn more about their personalities and everything once the show starts. But since there's still no show yet, we've rounded up everything we know about The Bachelor's four Laurens.
First of all, we have Lauren B., Lauren G., Lauren J., and Lauren S. Three out of the four of them have blonde hair, so that'll make things more confusing when it comes differentiating between them. In case you forgot who Arie Luyendyk Jr. is (don't worry, I did too, TBH), he was one of the runner-ups on Emily Maynard's season back in 2012. ABC's bio for Luyendyk says,
Six years ago, Arie Luyendyk Jr. was in love and a day away from proposing to the woman of his dreams. And then, she broke his heart. Emily Maynard (now Emily Maynard Johnson) may not have been Arie's future wife, but he hasn't been able to find a love like hers since. Now Arie is back and ready to race into America's heart yet again when he returns for a second shot at love, starring in the 22nd season of The Bachelor.
But will he find ~true love~ with one of the Laurens? Here's what each of them looks like plus a little somethin' somethin' about them:
Lauren B., 25
Lauren B. is from Virginia Beach, VA, where she works as a tech salesperson, according to her bio on The Bachelor's website. In her Q&A for said bio, she said one law she wishes she could break would be to drive as fast as she wants. Random, but OK. This need for speed (I am so sorry) might come in handy when getting to know Luyendyk, 36, as he's the son of a Formula One racer and was a racer himself for a while before starting his current career in real estate.
Lauren G., 26
Lauren G. is an executive recruiter from Indianapolis, IN, who apparently loves to travel, according to The Bachelor's website. This will be great for her and Luyendyk, seeing as he was born in The Netherlands himself before his family immigrated to the U.S. when he was three years old.
Lauren J., 33
Lauren J.'s bio says she recently got her masters, though it doesn't specify what she got her masters in and lists no other occupation outside of that. She's from New Roads, LA, and says her biggest fear for any date is having to sit through awkward silence. Let's hope she doesn't have to suffer through that this season!
Lauren S., 31
Lauren S. is a social media manager from Dallas, TX, and says if she could be anyone in the world, she'd want to be "literally anyone in Taylor Swift's girl squad." She also loves Hamilton and is dying to see it, so she is now in my good graces because I understand that struggle.
So there you have it, Bachelor fans! Your own personal cheat sheets for those confusing episodes where you'll have to remember which Lauren is which. The Bachelor season 22 premieres on Monday, Jan. 1, at 8 p.m. EST on ABC.