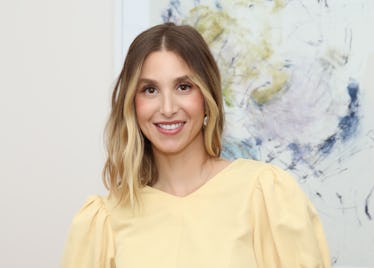 Whitney Port Reveals Which 'The Hills' Co-Star Has Changed The Most Since The Show's End
Michael Simon
It takes a special group of people to willingly reunite with the unpredictable friends you cried with, cursed at, and hugged on a regular basis in your early 20s. Plenty of dirt has spilled about the reality of the tumultuous friendships between The Hills cast members, but the cast is putting the past aside when they reunite for MTV's The Hills: New Beginnings next year. It's been eight years since The Hills closed that forever unwritten book of drama, but in addition to the cast's babies, businesses, and marriages, Elite Daily spoke to a cast member about who is the most different from their younger self. Whitney Port says Spencer Pratt has changed the most since The Hills ended, and her explanation proves that we may be in for a surprise on the reboot series.
Recently in New York to celebrate the Mrs. Meyer's Compassion Flower Project, Port, now a married mother of a 1-year-old son, has kindness on her mind. On Sept. 3, Mrs. Meyer's began donating Growing Compassion Gardening Kits to classrooms upon every purchase of a bottle of Mrs. Meyer's Compassion Flower hand soap. Planting the Compassion Flower, a hybrid mix of a pansy and a spreading viola, promotes spreading kindness, which longtime Mrs. Meyer's fan Port has devoted herself to since The Hills concluded in 2010. Initially introduced on TV as Lauren Conrad's fellow Teen Vogue intern, Port's experiences on The Hills and her spinoff series The City particularly inspired embracing compassion over hate in her everyday life.
"I just realized that the more I was in touch with people and the more I was hearing from people, the more I realized the struggles that everybody goes through," Port says. "It made me just feel a lot more compassionate and not as judgmental."
Just as you won't find the cast's go-to hang Les Deux in Hollywood anymore, you won't see Port trying to stir drama when she reunites with her co-stars on the 2019 series. After using her YouTube channel to connect with other new moms craving a supportive network, Port joined the reboot with hopes of having a "bigger platform" to reach out to mothers. With this goal in mind, getting involved in the latest Speidi scandal isn't quite what she wants from New Beginnings.
"I think I'm scared of people wanting to create drama just for the sake of ratings and especially creating fake drama," she says. "We're all a bunch of young moms and I hope we can really support each other as opposed to tear each other down."
Admitting that she doesn't speak to any Hills cast members regularly, Port believes that former troublemaker Spencer Pratt could surprise both castmates and viewers on the new series. "I don't know everything he's up to, but from what I see on Instagram, it looks like he's leading a really lovely, responsible life with some interesting quirks and hobbies," she says. "I think that it's fun to watch and it's not necessarily the old Spencer that was causing so much drama before. I don't know if that'll be the case or not, but I'm excited to get to know this fun, quirky side of Spencer."
From styling a relatively unknown Lady Gaga on The Hills to meeting her husband behind the scenes on The City, Port's own New Beginnings scenes are expected to follow her everyday routine of taking care of her family and launching a business. We're definitely mourning the idea of fewer blowups at the club in the reboot, but with Port's aim for compassion in mind, maybe New Beginnings will be the ode to Hills friendship that we never thought we needed.
The Hills: New Beginnings premieres on MTV in 2019.