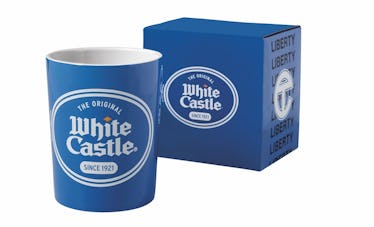 White Castle Is Selling Holiday Mugs That'll Help You Donate To A Great Cause
Courtesy of White Castle
Fun fact: I am a mug collector, and my kitchen cabinet is filled to the brim with ceramic glasses that I use for coffee on the reg. Whenever I visit a new city, I usually buy a new one — but if I see a mug that I like in a local restaurant or a store, I'll add it to the collection. Believe it or not, I might be adding a White Castle collectable to my shelf this year, because White Castle's holiday mugs for 2018 are finally on sale. TBH, I think it'll be the perfect addition to my ever-growing assortment. Plus, winter is coming — and between warm lattes and hot cocoa, I'm going to need a surplus of mugs.
OK, enough about me and my collection. Let's talk more about White Castle's holiday product and why it's so important to purchase this year. Sure, mugs certainly come in handy when it's cold out, but White Castle's holiday mug will do so much more than keep your coffee warm. According to a White Castle press release from Nov. 29, the net proceeds of the mugs that are sold will benefit the Robert F. Kennedy Human Rights bail fund, which aims to help the youth on Rikers Island bail out of jail if they cannot afford to do so. To read more about the organization and its mission, click here.
Now that you know how important it is to buy White Castle's holiday mug, let's talk about its price. Thankfully, each mug is super cheap, selling at only $5.99. (When you think about it, that's probably less money than you spend every day on your coffee orders.) As expected, the mugs are currently being sold at White Castle restaurants — so go ahead and pick one up while you're grabbing your afternoon Sliders.
In addition to the mug's reasonable price, its design is pretty admirable. The ceramic cup is blue in color and features the classic White Castle logo inside a double-striped white circle. Its simple design was created by Telfar Clemens, who established the unisex clothing line, TELFAR, in 2005.
Jamie Richardson, vice president at White Castle, talked about the company's holiday mugs in a press release. He said, "For many years, White Castle has enjoyed producing these one-of-a-kind mugs for White Castle customers and fans everywhere to add to collections or pick up as a quick and fun gift for others." Yup, I can't wait to add this year's mug to my cabinet.
Richardson continued and spoke about Clemens' design on White Castle's 2018 mug. He said, "This year, we're particularly excited to be able to bring our Cravers a custom design by our close friend and partner, Telfar Clemens, the brains behind the TELFAR fashion line and our bold and beautiful uniforms worn every day by thousands of team members nationwide." Again, I'm excited to sip on my coffee out of this beaut.
If you're also hoping to buy a White Castle holiday mug, stop by your local restaurant and pick one up. Not only will you be sipping in style, but you'll also be donating to a great cause.