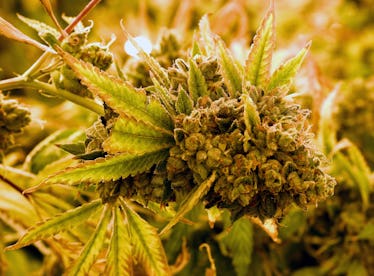 Weed Just Became Legal In California & It Won't Be The Only State To Go Green In 2018
Ethan Miller/Getty Images News/Getty Images
Jan. 1, 2018 marks day one of legal recreational marijuana in California. Adults over 21 years old can now legally buy marijuana at select stores in California, as of 6 a.m. PST. Legalized marijuana in California is projected to be worth $7 million, which would make California the world's largest legal marijuana market, according to the Los Angeles Times. While Californians get high off weed and state revenue, which other states have (or will) legalize weed? With profits of that scale, many other states are expected to follow suit in 2018.
The new law indeed gives Californians more access to marijuana, but they still have to keep it at home. Under the new law, adults over 21 can legally possess up to one ounce of marijuana. For farmers, they are legally allowed to grow a maximum of six cannabis plants at home. Marijuana use in public places is still illegal under the new law, as well as smoking weed in areas that tobacco smoking is banned, according to The Huffington Post.
Other provisions for the new law include 20 different types of licenses and permits for marijuana farmers, distributors, and retailers. Starting Jan. 1, the state is expected to issue licenses for delivery that brings weed to a buyer's front door and marijuana testing labs, among other things. Many retailers and sellers will likely not receive permits from the Bureau of Cannabis Control agency as immediate as Jan. 1, so retail stores will continue to grow and open up over the course of 2018, according to The Huffington Post.
California has played a significant part in the national debate over legalizing weed, especially after a great deal of California voters voted "yes" on Prop 64, the 2016 initiative to legalize recreational marijuana use. At the time, the Los Angeles Times reported that the government estimated California could generate up to $1 billion in taxes as a result. The initiative to legalize marijuana is attempting to unravel former President Richard Nixon's failed "war on drugs" campaign. This new law will give people, who have previously been convicted of marijuana-related crimes that wouldn't constitute as a crime under this new law, the chance to petition for their record to be cleared or reclassified in court.
There are a few states that are already ahead of the game. Oregon, Washington, Washington D.C., Colorado, and Alaska all legalized recreational weed before 2018. Retail weed stores have been running since 2014 in Colorado and Washington, in Oregon since 2015, and in Alaska since 2016, according to CNN. In the 2016 state election, California, Maine, Massachusetts, and Nevada all voted to legalize marijuana in 2018. Most states have similar restrictions in play, such as prohibiting weed use in public, as well as traveling state lines with it.
There's also a list of states that are expected to pass legalization laws in 2018, including Vermont, New Jersey, and Michigan, who all have new legislation in the works. Vermont lawmakers are expected to pass the new marijuana law after House and Senate leaders reconvene after the holiday on Jan. 3, according to Forbes. By the end of 2018, it's likely that other states will be joining in with similar laws.
While legalized weed can provide more revenue and de-criminalization, many critics are still concerned that marijuana's black market will still thrive at greater rates despite legalization. The California Growers Association estimated that California produces 80 percent of the black market marijuana that is used across the United States. Raids of illegal growers in California are expected to continue through 2018, as long as the black market steadily flourishes.